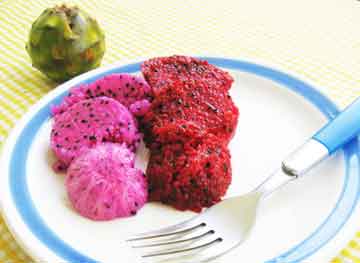 Nothing plucks at the heartstrings of Tapatíos (Guadalajara dwellers) like the annual ritual of the pitaya — that short and splendid season when the delicate fruit with the drab exterior and blindingly brilliant if gooey interior is plucked from the stenocereus gummosus cactus in rural areas south of the big city and rushed to be sold in the picturesque Nueve Esquinas area or by vendors who ply city streets bellowing "Pitaya!" and carrying the tennis-ball-sized globes nestled in large baskets in layers of purple-flowered alfalfa greens.
Despite Mexicans' love affair with this fruit, there are plenty of young, sophisticated, suburban, tablet-toting Tapatíos who know little pitaya lore. 
"Nueve Esquinas?" one asked. "Isn't that where you get t-shirts printed with your own design?"
You can do that too in Nueve Esquinas, as well as dine on bírria (goat stew) in one of the many good restaurants in this well groomed area which, with its vestpocket plaza, fountains and parquecito (little park), is definitely one of the city's must-sees, despite the ubiquitous thick traffic.
Approaching Nueve Esquinas from the north, I quickly realized that the pitaya sellers were not exactly in Nueve Esquinas, but a block farther south, alongside the parquecito, at the corner of Nueva Galicia and Colon. But once you approach, rather than having to find the sellers, they find you, with their well honed and very direct marketing techniques.