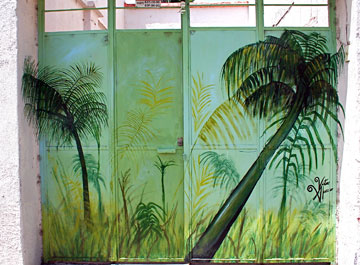 A new art genre is booming at Lakeside.
Photographer and artist Jaime Barbiery coined the word Facharte (façade + Arte) in 2010 to promote and coordinate an effort by Ajijic's Delegacion to beautify the town in time for the country's bicentennial. Most of the murals that came to life then, artistically decorating the facades of businesses and homes, doorways, rocks, telephone poles and trees are still in place.
Happily Barbiery's efforts are continuing and have expanded. A long block of Ajijic's Calle Zaragoza houses are blooming with fresh colors and artistic accents. You'll see similar beautiful effects in many lakeside villages and towns as local residents and local governments continue to commission and subsidize murals and façade accents.
Facharte has been recently decorating and beautifying Calle Morelos in Chapala. The Ajijic Anti-Graffiti group's generous donation of leftover paint means that residents with an idea, design or inspiration can see it come to fruition by working with Facharte and the collaboration of the artists cooperating with the group. The owner is asked to reimburse the artist for the amount agreed upon for their time.
There's a wonderful side benefit from all these public works of art. In recent months, delightful street art is popping up on the walls of empty lots and other places that were once covered with graffiti. These new artistic, modern murals are colorful and expressive.
To contact Facharte for your own piece of public art, email Barbiery at This email address is being protected from spambots. You need JavaScript enabled to view it. or call (33) 3474-1192 or (376) 766-3860. Visit facharte.blogspot.com to view some of Facharte's murals and works.