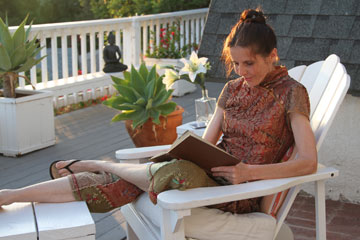 When Barbara Sackl came to Mexico 15 years ago, it was due to an invitation from an Austrian anthropologist for a trip to Chiapas — a trip that ultimately didn't pan out.
"I never, ever planned to work here," she says with a smile.
But the actress, singer, dancer, director, producer and teacher soon immersed herself in a variety of artistic projects that complemented her strong interest in indigenous cultures — a series of full-length documentaries about the Wixarirtari [Huichol] people in remote parts of Jalisco, a Shakespeare theater project in the notoriously violent Mexico City neighborhood of Ixtapalapa, and more. Over the years, she has also made frequent trips to Europe and the United States, where she writes and stages solo productions.
Although Sackl's work base for the past seven years has been a rented house in Guadalajara's Colonia Providencia, she considers Vienna her official home. However, she is dedicated to the freelance artist's life with its attendant gypsy-style wandering and economic instability.