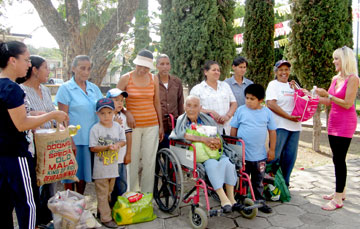 Given the overall modern façade of the area, it's easy for expats who stay in the commercialized areas of the larger lakeside villages to believe that everyone here is fairly well off and that the country's "poor" must live in other regions.
Nothing is farther from the truth according to Wendy Johnson, an energetic woman who daily serves as the catalyst to match the villagers of San Juan Tecomatlan with local organizations that can solve their urgent needs.
Most often during the past 20 years, it's been the congregation of the Little Chapel by the Lake that has answered Wendy's call for help.
"It all started," she said, "after I attended a pair of funerals in San Juan Tecomatlan. There just was no money even for burying the dead, or for the wakes that normally precede the funerals. I went to the priest and asked what could be done to help most. "
The priest's answer was painfully simple. The people of the village continually need more food and better nutrition. He sent Wendy to three village women who made a list of those in need. Then they narrowed the list and then cut it again – to 100 souls.
"I was aghast. I didn't know how I was going to feed even a handful of people, let alone 100, so I turned to the Little Chapel by the Lake, said Johnson. "Their budget with missions and outreach was already in place but they agreed to donate 30 packages with enough food for five days each month. The San Juan ladies agonized as they eliminated another 70 from the list. The church, like everyone else has seen economic up and downs during these years. At one point they were able to supply 50 food packages. Today we're back down to 30."