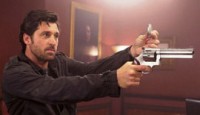 Two sets of crooks and one reluctant hero square off in this blend of comedy and action.
Tripp has been trying to catch the eye of pretty bank teller Kaitlin, and he thinks he's come up with just the thing to get himself noticed — he shows up just as the bank is about to close for the day and asks her to break a hundred-dollar bill into loose change.
But Tripp's attempt to meet cute goes wrong when two different sets of thieves invade the bank at the same time. Three are savvy criminals who have carefully worked out a plan for clearing out the vault, while the other two are half-bright rednecks who intend to crack open the ATM machines and take the cash inside.
Before long, both teams of crooks are trapped in the bank and find themselves constantly in each other's way. Tripp is trying to find a way to protect Kaitlin and himself while foiling the robbers.
Director: Rob Minkoff. Cast: Patrick Dempsey, Ashley Judd, Tim Blake Nelson, Mekhi Phifer, Pruitt Taylor Vince. Rated: NR. Time: 1:24.