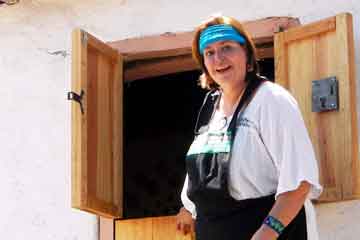 Maru Toledo is author of at least 19 cookbooks, typically filled with fascinating anecdotes, interviews, and, of course, recipes, all reflecting aspects of Jalisco's oral tradition, which is disappearing.
Her personal favorite of these books is "La Comida en Casas de Techos" Altos (Food in Houses with High Ceilings): "I go back to it," she says, "I start reading, and it all seems new to me, as if I hadn't written it."
For years Maru has dedicated herself to rescuing the oral tradition and gastronomy of the Valles area, which meant it was often difficult for my wife and I to locate her, as she moved frequently, usually to remote and hard-to-get-to places.
We finally caught up with her last week at a little ranchito called Teuchiteco, nestled in the foothills of Ahualulco´s Cerro de Las Piedras Bola, famed for its extraordinary giant stone balls.
"Welcome to the Smoky School of Gastronomy," Maru said upon our arrival, explaining that here the cooking is done the old way, without benefit of gas or electricity. We entered the kitchen, where Maru's longtime associate Francisca "Pachita" Flores was making Tacos de Sol, Sunshine Tacos. She was placing extra-large tortillas on a comal over a roaring fire. The masa was brick brown in color and Pachita explained it had been impregnated with a red chile sauce (and then kneaded on a metate). Once a thick tortilla was ready, Pachita would remove it from the comal and immediately scrape off its entire top layer; this she handed to Maru who then put a large spoonful of picadillo (ground beef and potato plus spices) on top of it, folded it over and hermetically sealed the taco with mere finger pressure. Next, the tacos go out into the hot sun where they "bake" for an hour.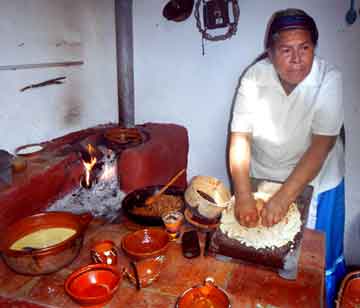 Finally, the Sunshine Tacos go into your mouth and I tell you these were the tastiest tacos I have every eaten. The exterior was crispy, but nevertheless melted in my mouth and it was so delicious it would have been a great treat all by itself, but in this case it was stuffed with amazingly flavorful picadillo. At that moment I felt that the humble taco had been transformed into a gourmet delicacy worthy of Le Cordon Bleu.
And apparently I was not alone in this assessment. Assisting Maru and Pachita was Joel Alberto Ochoa of Mexico City, a researcher in gastronomy who has been working for seven years at the famed Azul chain of restaurants in Mexico City created by celebrated chef Ricardo Muñoz Zurita, who was called by Time Magazine "The prophet and preserver of (Mexico's) culinary tradition."
"Chef Ricardo sent Joel here to study in my Escuela de Humo," said Maru "and he is staying with us just like one more member of the family."
How did Mexico City's most famous chef find Maru in tiny Teuchiteco, which I would hardly be able to relocate without my GPS?
"It's all because of Ricardo's diccionario," said Maru with a laugh. She was referring to Muñoz's Encyclopedic Dictionary of Mexican Gastronomy, aimed at accurately describing every ingredient and technique in Mexican cooking: a labor of love representing twenty-two years of research. She went on to explain that Muñoz came to Guadalajara not long ago trying to sort out the various kinds of chili peppers used in this area, which often have different names in different communities. Culinary experts in the City of Roses told the chef to "Go look for Maru Toledo. She's the only one who knows." Muñoz found Maru and a new chapter was opened in the culinary history of Jalisco. Within days they agreed to produce – together – an encyclopedic dictionary of Jalisco's gastronomy which is now expected to contain 400 recipes in two volumes and for the first time will contain the botanical names of plants featured in local cuisine.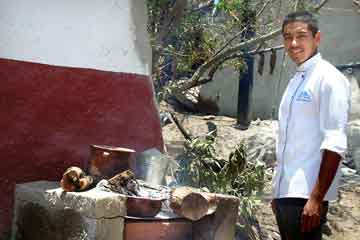 Not long after this first meeting, Maru Toledo received a phone call from Ricardo Muñoz: "I've invited 25 chefs from five countries to come to Jalisco, including Rick Bayless (star of Public TV's series "One Plate at a Time"). Do you think you could give them a cooking class the day after tomorrow?"
Ah yes, in typical Mexican fashion, Maru Toledo's Smoky School has been discovered and catapulted to international fame. I would say we local gourmets should take advantage of her availability before somebody whisks her off to Paris or London. Right now, any group interested in tasting or learning how to prepare Jalisco's best dishes, can arrange for a class and/or a meal either in the Casa de Cultura of Ahualulco, located 60 kilometers due west of Guadalajara, or at certain sites in Guadalajara itself. For these events, Maru Toledo is assisted by a group she founded called Las Mujeres de Maíz, local women skilled not just in cooking, but also in finding or growing all the herbs and plants needed for making a meal. With their help, even large groups of people can be accommodated.