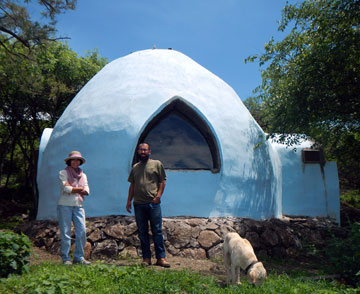 Pepe Herrera is a good dentist and as such usually distracts me from dental discomfort by talking about subjects he knows I'll find interesting.
"This weekend," he said, while taking an impression of my teeth (the few that remain) I'm working on a new project at my rancho. I'm building my own house out of Superadobe."
Somehow I managed to mumble the question, "Wad iz Fooper-um-dob-um?" And I must say, the answer was fascinating.
Superadobe, Pepe replied, was the idea of Iranian architect Nader Khalili for constructing houses on the moon using local materials (in this case, Moon dust). Khalili demonstrated his technique by showing refugees in war-torn parts of the world how they could easily build strong, weather-and-earthquake-proof houses using nothing more than sacks of sand or dirt mixed with a quantity of cement powder. The gunny sacks, feed bags or a long polypropylene tube are laid in a shallow circular trench. One layer is placed upon another, each time using a slightly smaller diameter, to eventually form an igloo shape. Barbed wire is laid between each coil to act as both mortar and reinforcement. The competed structure is then plastered over with a mix similar to that inside the bags, now called earthbags.