Soon after the cacophony of novel village sounds becomes part of newcomers' routine, they note the ever-present church bells and series of different rhythms and patterns they chime throughout the day.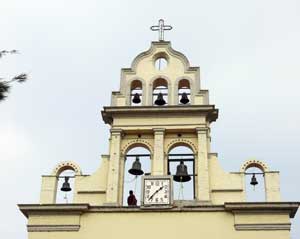 It's easy to learn the patterns of the bells used to tell time. For centuries the church bells have been the clock of the village, long before villagers had clocks.
At 15 minutes past the hour, there is a single "ding-dong." At half past, the pattern doubles and the bells call out "ding-dong, ding-dong." At 45 minutes past the hour, there are three sets of "ding-dong" chimes. At the top of the hour, the bells repeat "ding-dong" four times, followed by the number of chimes that match the hour.
The church bells do more than announce the time; they also alert villagers when it's time for Mass.
The first call to Mass, 30 minutes before the service begins, starts with a single stroke of the bell, followed by a pause, and then 15-30 strokes of the bell. After a pause, a final single chime completes the pattern.
Fifteen minutes later, the second call starts and ends with two chimes bracketing a number of strokes. On the hour, just as Mass is beginning, the third call opens and ends with three urgent chimes reminding parishioners, "It's time … Get here … Now."