Pedestrians in Guadalajara are a hunted species. Negotiating the streets of the metropolitan area on foot is not only dangerous but often life-threatening.
Sadly, the car is king in Mexico.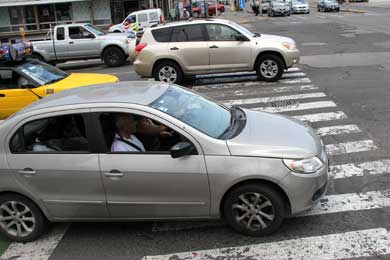 State authorities marked National Pedestrian Day (August 15) with a "campaign" to draw drivers' attention to respecting the "zebra crossing" zones at traffic light intersections.
The campaign consisted of 150 volunteers handing out leaflets and attaching stickers on car windscreens at 20 city intersections.
Let's be honest, this was a half-hearted attempt by authorities to appear as if they care about pedestrians. The reality is that most of Guadalajara's two million drivers will blindly carry on with their appalling behavior. Encroaching on pedestrian crossing zones is in Tapatios' DNA, and such habits will only be curbed if authorities get serious, applying severe fines, approving more rigorous driving exams, pursuing ongoing, properly funded and highly visible educational campaigns, etcetera.
Please login or subscribe to view the complete article.