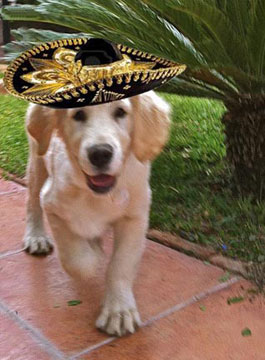 The first two articles discussed official requirements for importing pets into Mexico and the travel considerations involved. Now we'll look at the trip itself.
At the airport
The day before travel reconfirm your booking with your pet.
For each flight with accompanied pets, you should arrive approximately half an hour prior to the stated check-in. Ensure that you have one original plus photocopy of the Certificate of Animal Health documentation, detailed in the first article of this series, for each stop on the journey, together with any additional paperwork required by individual airlines, countries or states en route. Also, carry a collar, lead, poop-bags and a few dog biscuits in your hand luggage.
When your pet, his paperwork and crate have been checked, enquire what time you will need to bring him back. Complete your own formalities and check in your baggage. Airlines usually ask for the pet's return within an hour of departure, so I leave the crate with them and take him for a walk, providing a last minute opportunity to relieve himself.
Return on time and help to place your pet in the crate, without his collar, installing the four cable ties – one at each corner of the metal door, which must not be locked. The staff will then send your pet to the cargo area.
Most veterinarians agree that pets should not be given sedatives or tranquilizers for flying. An animal's balance and ability to maintain equilibrium changes under sedation, which can be dangerous when the kennel is moved. In the cabin or hold, increased altitude pressures can create respiratory and cardiovascular problems for sedated animals. If your pet is sedated, the amount and name of the medication plus date and time administered must be given to the agent at check-in.