As in other Christian countries around the world, the celebration of Christmas in Mexico is an amalgamation of religious, social and family customs, enjoyed with greater gusto when accompanied by traditional foods.
The cena navideña (Christmas dinner) is a late night feast dished out when the extended families gather on Christmas Eve, commonly taking place after members of the clan attend the late night December 24 Misa de Gallo (Rooster's Mass) at a neighborhood church.
For an average Mexican household, tight financial circumstances might dictate an economical spread featuring typical dishes prepared to feed many mouths. The main menu item would be pozole or tamales, both based on recipes for ritual foods that originated in the pre-Hispanic era.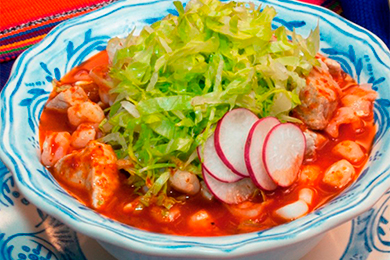 Pozole is a hearty stew made from cacahuazintle (hominy) and pork, often using the entire head and other tasty cuts of the pig. For Jalisco style pozole, the broth is seasoned with garlic, onion and red chiles. Steaming platters are garnished with shredded lettuce, radish slices, lime juice and extra hot sauce, with crispy tostadas on the side.
Tamales, those tasty packets of masa (corn dough) and spicy fillings wrapped in dried corn husks or fresh banana leaves, were consumed in Mesoamerica as far back as 8000 B.C. Due to the laborious preparation involved, they are commonly made by the dozens to be steamed in giant vats. Nowadays the most usual fillings are pork and chicken cooked in red or green salsas or a chile and chocolate seasoned mole sauce. Sweet tamales may be flavored with raisins, pineapple or other fruits.
For families of comfortable means, the classic holiday menu is composed of a variety of dishes representative of the country's unique mestizo cuisine.
Naturally pavo (turkey)-the feasting fowl native to the Americas-is the most popular choice for the main course. The bird is usually prepared for Mexican tables with a rich stuffing based on ground meats and sausages rather than the familar U.S.-style bread dressing. Other options for the meal's protein component are roasted chicken or pork leg.
A popular holiday main dish of Spanish origin is bacalao a la vizcaina, a toothsome stew made of dried cod and potatoes flavored with olive oil, onions, garlic and green olives. Another standard is revoltijo, a spicy concoction made by combining wild greens known as romeritos and tortitas de camaron (dried shrimp fritters) bathed in mole.
Ensalada de Nochebuena, a colorful salad platter containing lettuce, beets, jicama, oranges, apples and peanuts, helps refresh the palate.
For the sweet tooth, favorite holiday treats are buñuelos. These paper-thin wheat wafers are fried to a golden crisp and then bathed with sticky syrup or sprinkled with sugar.
Diners may uncork a bottle of wine or sidra, a non-alcoholic sparkling cider, to accompany their cena. Others may wet their whistles with iced cold Noche Buena, a dark beer marketed only during the holiday season.
A hot beverage often ladled out at Christmas parties is ponche navideño (Christmas punch), a steaming brew made with native ingredients such as tejocotes (hawthorn fruits), guavas, jamaica (hibiscus flowers), bits of sugar cane, prunes, cinnamon sticks and pecans.
Along with the Noche Buena feast, family fiestas generally encompass gift exchanges, piñata-smashing and joyous camaraderie that won't wind down until dawn. Consequently, December 25 is observed with a quiet day of rest and relaxation, even for the Mexican housewife who will take a break from regular kitchen duties by spooning out the recalentón – warmed up leftovers.