Guadalajara's decade-old, car-free Via RecreActiva allows city residents to reclaim their streets at their own pace for a heavenly six hours once a week. The activity is also a great way for newcomers – and visitors from the Lake Chapala area – to get to know a metropolis that for the rest of the week is mostly snarled with traffic, noise and stress.
The premise is simple: Every Sunday, around 65 kilometers of streets and avenues are closed to motor vehicles between 8 a.m. and 2 p.m., giving priority to hundreds of cyclists, pedestrians, dog-walkers, runners and roller-skaters. Age is irrelevant: infants, seniors and well-behaved pets join in happily.
Abhinav Premi arrived in Guadalajara from India two years ago amid grey skies in the midst of the rainy season.
"It was a Sunday morning, and soon people in colorful cycling and running gear began pouring into the streets outside my hotel on Chapultepec," he recalls. "The energy was hard to resist. I knew I had to be a part of it!"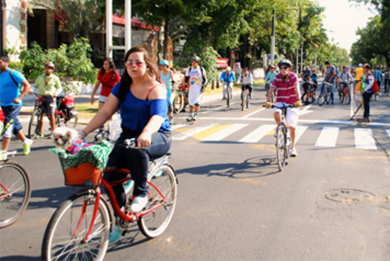 What could have been a lonely first day for Premi stuck inside a hotel turned into an adventure. In the weeks to come the Via RecreActiva was key to helping him settle in Guadalajara.
"I connected with people, gathered details about this unique program, and just like that, the city, with arms wide open, became a lot less overwhelming," he says. "I started running regularly on Sundays with a friend, followed by a series of marathons in and around the city. The solidarity amongst complete strangers running uninhibited on the streets every Sunday, is something I've come to cherish."
The Via RecreActiva links the six municipalities comprising the metropolitan area: Guadalajara, Zapopan, Tlaquepaque, Tonala, Tlajomulco and El Salto. Besides the participants, hundreds of paramedics, trained inspectors and volunteers are on hand to make sure the activity functions smoothly and that motorists respect the many closed intersections.
As part of the social service mandate at her college, Andrea Ortega has been volunteering at the Ciclo Tour booth, offering free city tours along Avenidas Vallarta and Juarez – perhaps the most popular stretch of the Via RecreActiva.
She finds plenty to amuse her. "No two Sundays have been exactly the same," Ortega says. "There's always an air of festivity. Some folks will wear quirky hats. Others will display a fancy tattoo, or even dress up as a pixie or Iron Man. It's a happy chaos, unlike everyday traffic. I've seen people trailing behind a guy cycling with a boombox, just like the Pied Piper of Hamlin. The antics never wear off."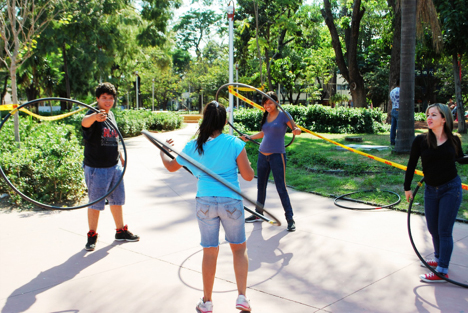 The Via RecreActiva draws artists and exercise enthusiasts to the parks (Metropolitano, Revolucion) and promenades (Paseo Chapultepec) along the route. In particular, the Parque Revolucion is a hive of activity, with people engaging in hula hooping, life-size chess, dominos and arts and crafts, while a band provides musical entertainment.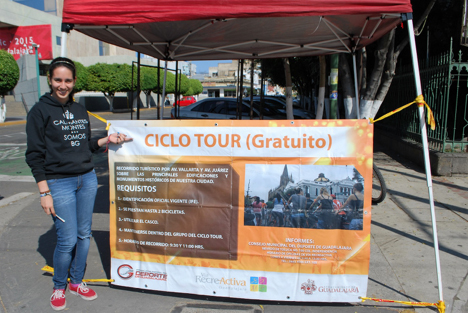 Free medical and nutritional counseling booths provide health check-ups and advice, as well as first-response for minor injuries. The pet adoption stand on Chapultepec is always busy, showcasing a variety of vaccinated and spayed dogs needing loving homes.
The PréstamoLibre Cicletas booth at Parque Revolución rents out up to two bicycles per I.D. for the day. And for those who get into technical trouble, bike mechanics set themselves up at various intersections along the way.
Many prefer taking their time, leisurely sampling the coffee shops lining the route: cappuccino at Chai Café, scones at Barra Café, sandwiches at Café Providencia. Some families even open their front porches to visitors, serving homemade breakfasts.
The Via RecreActiva can also serve as a gateway for exploring some of the city's most historic landmarks, such as the Museum of Arts of the University of Guadalajara, Teatro Degollado, or the Cathedral.
Vía RecreActiva Routes
Vía RecreActiva Guadalajara: 25.6 kilometers
ROUTE 1: Gigantes - Javier Mina - Juárez-Vallarta - Minerva (11.6 kilometers).
ROUTE 2: Chapultepec - Niños Heroes - Paseo de la Arboleda - El Sol - Tonantzin - Capuchinas - 12 de diciembre (5.2 kilometers).
ROUTE 3: Calzada Juan Pablo II - Aquiles Serdán - Blvd Marcelino García Barragan (8.8 kilometers).
Vía RecrAactiva Zapopan: 24.4 kilometers
ROUTE 1: Avenida de las Rosas - Tepeyac - Abogados - Beethoven - Independencia (6.4 kilometers).
ROUTE 2: Labna - Amado Nervo - Pegaso - Sagitario - Galileo Galilei - Mariano Otero - Tepeyac - Las Torres (10 kilometers).
ROUTE 3: Lienzo Charro Zapopan - Avenida Hidalgo - 5 de mayo - Industria - Avenida los Laureles - Dr. Luis Farah - Enrique Diaz de León - Miguel Amaya - Gral. Agustín Olachea - Lic. Luis Manuel Rojas - J. Aguirre E. - Periférico Norte - de los Tabachines - Paseo de los Frambuesos (8 Kilometers).
Vía RecreActiva Tlaquepaque: 4.3 kilometers
ROUTE 1: Blvd Marcelino García Barragan - Morelos - Cruz Verde - Constitución-Carrillo Puerto - Independencia Eje - Hidalgo - Clavel - Álvarez del Castillo - Felix Cervantes
(4.3 kilometers).
Vía RecreActiva Tonala: 4.5 kilometers
ROUTE 1: Álvarez del Castillo - Malecón - Circuito Niños Heroes - Loma Azul - Paseos Lomas del Sur - Revolución
(4.5 kilometers).
Vía RecreActiva Tlajomulco: 6.2 kilometers
ROUTE 1: Juárez Sur - Pedro Parras Centeno - Camino A San Isidro Mazatepec - Banus - A. Colima.
Vía RecreActiva El Salto: 2 kilometers
ROUTE 1: Avenida Las Torres - 20 de Mayo.