The concept of the home is at the heart of Mexican culture, "Mi casa es tu casa" says the age-old refrain. Homes are family centers, meeting points for friends and the building blocks of communities. Few visitors to Mexico fail to notice that locals offer some of the warmest hospitality on the planet.
The concept of Mexico and the New World was also built on the idea of the freedom to create.
Free from the stifling restrictions of Europe, the Western Hemisphere offered a fresh start, where everyone had a chance to get creative. These ideas persist today, as some of these eccentric homes show.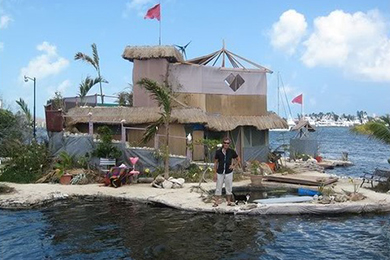 1. The plastic paradise
Joyxee Island is a floating artificial island near Cancun that is constructed mostly out of plastic bottles. British artist Richart "Reishee" Sowa is the island's creator. The three-storey house he built has three showers, a kitchen, two bedrooms, solar panels and even internet access. The floating base for the house is constructed out of around 150,000 bottles.
"The collecting of the bottles started slowly at first – it took about six months just to source the base, just walking around the local towns and picking up the bottles by hand," explains Sowa.
In total, construction of the island took Sowa more than two years. It is his third attempt at building his own plastic utopia, but he has learned from past mistakes. The current island is situated in a lagoon, so it is less susceptible to the hurricanes that destroyed its predecessors.
2. The identical house in San Luis
The death of her husband Freddie in 2001 left Hollywood socialite Janet Thomas De Cordova in emotional and financial ruin.
Freddie, formerly the executive producer of Johnny Carson's Tonight Show, had blown through most of their savings. Janet's million dollar mansion, 1875 Carla Ridge, would be put up for sale.
In deep emotional distress and with funds running low, Janet grew even closer to her Mexican housekeeper and confidante Gracie Covarrubias.
Yet one morning even this was taken from her. After 40 years with Janet, Gracie announced that she was retiring to San Luis Potosi, her hometown in Mexico, where she had built her own house with her savings.
Please login or subscribe to view the complete article.