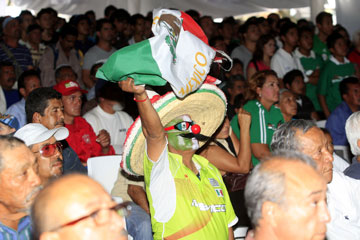 Even hardened soccer skeptics are being reluctantly drawn into the ballyhoo of World Cup 2014, whose first week provided a slew of exciting games, goals and dramatic climaxes, as well as fine performances by the Mexican and U.S. teams.
Many U.S. and Canadian sports fans and journalists have never been able to get their heads around a goalless tie in soccer, but the 0-0 scoreline between Mexico and host Brazil on Tuesday was greeted with jubilation in this country. The streets emptied, workplaces were abandoned and school classes suspended as the nation watched El Tri put on a resolute defensive display against the tournament favorites in the northern Brazilian city of Fortaleza.
More than 30,000 Mexican fans have made the long trip to Brazil to watch the World Cup and at least 7,000 were in the stadium to counter the thunderous support of the yellow-jerseyed Brazilian hordes.
The loudest cheers were reserved for Guadalajara-born goalkeeper Guillermo "Memo" Ochoa, who pulled off a string of tremendous reaction saves that earned him instant hero status back home in Mexico. (Dozens of Internet memes featuring Ochoa were spawned this week, some of them focusing on his distinctive long curly hair, which he keeps in place with a headband.)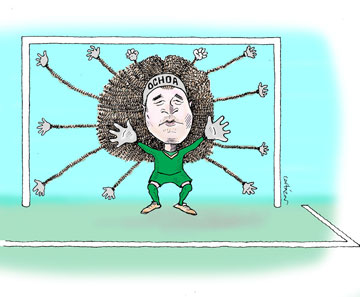 One save in particular, diving to his right to miraculously palm the ball around his post after a fierce downward header from Brazil's star man Neymar, was viewed by some pundits as one of the greatest saves ever seen at a World Cup – as good as the one by England's Gordon Banks from a similar header by Brazil legend Pele at Guadalajara's Jalisco Stadium in the 1970 World Cup.
A win or tie in the final group game against Croatia on Monday, June 23, 3 p.m. would see Mexico qualify for the round of 16. Their opponents would be either the formidable Dutch or Chileans. Making it through to the quarter finals and beyond is a tough ask, even counting on Ochoa's stunning form, and would be seen as a major success for El Tri, whose chances were largely written off by most experts before the tournament started.
US victory
The question has been raised before but could success for Team USA at the World Cup detonate greater love for the round ball game in the United States?
Slowly but surely, soccer is finding its way into the consciousness of American sports fans – most notably when the World Cup comes around every four years. Many U.S. cities opened special "fan zones" for the United States' opening game with Ghana. President Barack Obama tweeted a good luck message to the players, and Vice President Joe Biden made the trip to Natal to watch the game, sitting next to his Ghanian counterpart.
Team USA's 2-1 victory, with an unlikely last-minute goal by second-half substitute John Brooks Jr., sent fans packing bars from Boston to Portland into rapture, judging from the scores of videos posted on YouTube after the game. Next up for the United States are Portugal (Sunday, June 22, 5 p.m.) and Germany (Thursday, June 26, 11 a.m.). Victory in either game would be against the odds but confidence is high and U.S. coach Jurgen Klinsmann believes "the impossible is possible."
England, Spain
After losing narrowly to Italy in their first group game in the tropical heat of Manaus, England faced Uruguay on Thursday in a do-or-die confrontation in Sao Paolo. Qualification for the knock-out stages was on the line although most English journalists seemed confident that the Three Lions would prevail.
As it turned out, England lost 2-1 to the small South American nation of around three million inhabitants. Journalists started to sharpen their knives; a lot of blood will be spilled in the coming weeks as inquests into the team's failings are agonized over in detail (England, however, have a slender qualification life line should they beat Costa Rica and Italy beat both Costa Rica and Uruguay.)
Champions in South Africa in 2010, Spain suffered a massive reversal of fortunes in Brazil 2014, getting dumped from the tournament after just two games. Losses to the Netherlands, 1-5, and Chile, 0-2, stunned a nation that had expected a semi-final appearance as a minimum requirement. Commentators said coach Vicente del Bosque had relied too heavily on an aging "old guard" that had seen the team win their last three international competitions. Tired legs, predictable tactics and the lack of new blood combined to hasten Spain's downfall, they agreed.