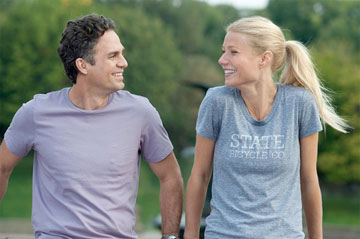 Thanks for Sharing
Thanks for Sharing follows the lives of three friends who meet while attending 12-step meetings to help treat sex addition.
Mike is a leader in the sex-addiction community whose twentysomething son has turned up at home after months away and is struggling with substance issues. Mike's sponsee is Adam, a guy who has gone six years in the program without falling off the wagon. He starts a relationship with Phoebe, and finds it difficult after going so long without sex to have it be part of this new relationship. They also befriend an obnoxious young doctor whose addiction is ruining his medical career.
Director: Stuart Blumberg.
Cast: Mark Ruffalo, Tim Robbins, Gwyneth Paltrow, Josh Gad, Joely Richardson.
Rated: R.
Time: 1:52.
Divergent
In a world where the population is divided into factions by personality types, Tris Prior is classified as Divergent. When she uncovers a conspiracy to eliminate all Divergents, she teams with the mysterious Four  to find out what makes the powers-that-be so frightened of them. This action thriller is adapted from the novel by Veronica Roth.
Director: Neil Burger.
Cast: Shailene Woodley, Theo James, Kate Winslet, Ansel Elgort, Ray Stevenson.
Rated: PG-13.
Time: 2:20.