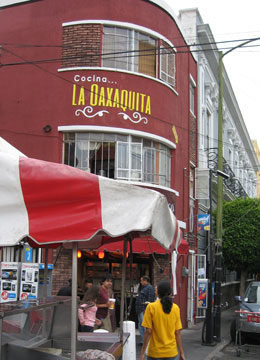 La Oaxaquita, a small, relatively new restaurant on the periphery of the immensely popular plaza outside the neogothic Expiatorio church in central Guadalajara, promises to notch up the quality of food offered around one of the city's jewels.
As the name suggests, La Oaxaquita, which means The Little Lady from Oaxaca, offers breakfast and dinners à la Oaxaca, one of Mexico's southernmost and more exotic states (with its capital city of the same name).
The restaurant sits on the second, third and fourth floors of a building a stone's throw from the well trafficked Expiatorio and just alongside and above a perennially open stall which serves popular if not delicious hamburgers and hot dogs.
La Oaxaquita's three small dining rooms are each situated on their own floor, accessible by narrow, cheerfully painted stairwells. Each room has a window that opens onto the busy plaza with breezes pulled in by the church's spires and usually pleasant aromas from the nearby stands wafting through. (Not everyone loves the odor of frying hamburgers and churros in bubbling lard, and certainly nobody the smell of propane gas from stoves below, but on still days and most of the rest of the time, these smells are less in evidence than the delicious aromas from La Oaxaquita itself.)