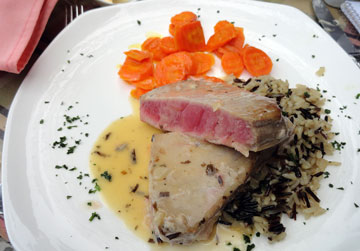 Measuring by chronological age, Tony Bishop of Ajijic's Hacienda del Lago Boutique Hotel and Restaurant may be one of lakeside's youngest expats.
Add up the achievements, experience and finesse of this 30-something entrepreneur-consultant and the sum sounds as if he might be an elder member of the community.
Bishop refers to the hotel and restaurant he is operating in a lovely hacienda-style Ajijic home as a "working model."
"This is my show room and the demo of what I can do for others, just on a small scale," says Bishop, who alternates hands-on local management and jetting off to other climes and countries to consult with the owners of other small elegant hotels.
Hacienda del Lago's hotel has just four suites. "That means we're always full," says Bishop. "I have bookings now to next February. Our guests are largely Mexicans from Guadalajara or Mexico City in for a few days of quiet and rest, or they are North Americans or Europeans shopping for high-end property here."