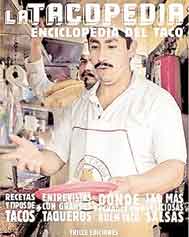 The three authors of La Tacopedia, an encyclopedia which offers a the history, culture and recipes of that most universal Mexican comfort food, presented their book during the 2014 Worlds Fair of Cookbooks in Beijing, China Wednesday. Deborah Holtz, Juan Carlos Mena and Alejandro Escalante were awarded a Gourmand prize for gastronomic literature at the event.
The authors told the story of the books origins — a 5 a.m. binge at a taco stand — at a presentation at Mexico's Beijing embassy. "The idea for the book came in a golden moment when we came from a party and stopped at a taco stand with it's delicious aromas," said Holtz.
The book, which has sold more than 20,000 copies in Mexico, is more than a recipe book. The authors included the vast culture that encompasses the taco including interviews with and anecdotes, and expressions of master taco vendors, and a list of the best taco joints — places where you can find such delicacies as maguey worm tacos or grasshopper tacos.