Bakery treats are associated with numerous holiday celebrations around the globe and Mexico's Three Kings Day is no exception.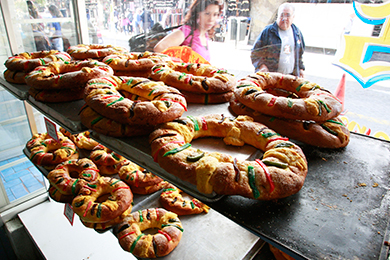 Rosca de Reyes, a lightly sweetened bread shaped in a circle or oblong form and decorated with jewel-like candied fruits to resemble a crown, is the culinary specialty the nation hankers for on January 6.
Bakers flavor the dough with orange and anise and slip one or more tiny baby dolls into each pastry before popping them into the oven. Rosca babies symbolize keeping the Christ Child in hiding from the wrathful King Herod. Originally the infant was represented by a small bean. Later on the bean was replaced with lifelike niños fashioned from clay or porcelain.
Nowadays the figures are made out of plastic. Dia de Reyes gatherings bring together families, school mates and office workers to partake in the tasty pastry along with steaming cups of hot chocolate. The slicing of the rosca always generates great excitement to discover whose portion contains a niño. The "lucky" individual earns the title of padrino (godparent) and the dubious privilege of hosting festivities on February 2 to wrap-up the Christmas season.
La Candelaria (Candlemas) centers on the levantamiento del niño, the ceremonious raising up and dressing of Christ Child figures used in the nativity scenes. The duties of the padrino include acquiring a new outfit for the Baby Jesus and providing party guests with a feast of tamales and atole.