Back in 2007, national TV network Televisa came up with the idea of declaring March 31 as the Día del Taco Mexicano. The new culinary "holiday" never gained much traction because, after all, every day is a taco day in this country.
It was around that time that a foreign lady approached me at a local supermarket and politely asked, "Excuse me, do you know where I can find Old El Paso taco shells?" I knew they were stocked in the next aisle, but just couldn't fathom why anyone would search for such a ghastly product in the land of the authentic taco. So I couldn't resist a deadpan reply, "Why yes ma'am. Just hop in your car, head north and as soon as you cross the border you'll find them on the shelves of any supermarket."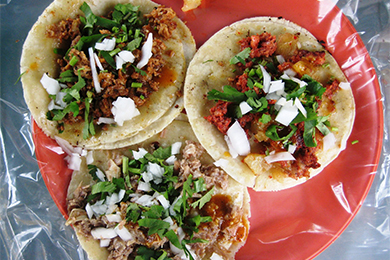 A world apart from those uniform cardboard flavored shells filled with ground beef and topped with shredded yellow "cheese food," a bit of lettuce and bland canned salsa, real tacos are made in a huge array of forms and flavors. As an incorrigible taco gobbler, here's a short list of my personal favorites, in no particular order of preference.
Please login or subscribe to view the complete article.