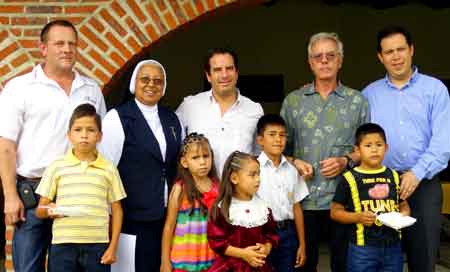 The small gratitude celebration at the children's home La Villa Infantil de Nuestra Señora Guadalupe y San José on Friday, May 23 marked the culmination of a project that represents years of preparation and hours of labor. The cake that was served at lunch said it all, "Gracias al Sol."
The home for 26 orphaned and abandoned children on the south shore of Lake Chapala caught the attention of lakeside residents Peter and Bettina Simons. As enthusiastic 30-year proponents of helping worthy organizations to gain energy independence, they created the Mexican Grid-Free Foundation and obtained non-profit status. They continue to provide schools, orphanages and other groups relief from crushing semi-monthly electric bills while utilizing the power of the Mexican sun and creating a "greener" environment.
"We started small here at La Villa," said Simons. "About four years ago I contacted Guillermo Corona, director of the Guadalajara solar company E2 Energías to see if he could help us fix the non-functional solar water heater already in place on one of the three small houses. Not only did his crew get that one heater up and running, they donated and installed two more for the other casitas."
Working toward solutions for Grid-Free, Simons eventually invited the president of Japanese company Sharp to visit lakeside during a business trip to Mexico.
"That was the way I knew we needed to go. Corona had put together a joint venture with Sharp five years ago and not only is Sharp the third largest producer of solar panels in the world, Sharp is the only solar supplier with a presence in Mexico."