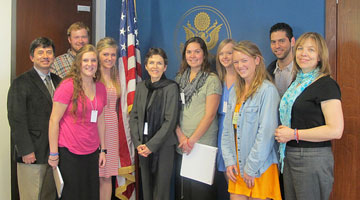 A group of students from Drake University recently completed an 18-day exchange program with the Tec de Monterrey Guadalajara Campus – the first visit of its kind since 2008.
According to the U.S. Consulate General in Guadalajara, the visit is "a positive sign" that the United States and Mexico are fulfilling the objective of presidents Barack Obama and Enrique Peñã Nieto to grow educational collaboration and exchange programs between the two nations. 
U.S. Consul General Susan Abeyta welcomed the students to the consulate to explain the facility's mission and services that it provides to both U.S. and Mexican citizens.