The Mexican Attorney General's Office has obtained a court order that would allow drug capo Joaquin "El Chapo" Guzman to be extradited to the United States if he is recaptured.
However, this may only happen after the notorious drug trafficker has served his full sentence in Mexico. At the time of his first escape in 2001, Guzman had served seven years of a 20-year term.
He was captured in February 2014 but last month brazenly escaped a second time from a maximum-security prison in the State of Mexico. Further charges will be pending on his recapture, authorities say.
Although Guzman faced several indictments in the United States, the Mexican government declined to extradite him, erroneously believing he could be held securely in this country's prison system.
Over the course of a year, a tunnel was burrowed from outside the prison's walls, leading directly to his cell. Despite the presence of video surveillance cameras in his cell, he calmly slipped into the tunnel and disappeared on July 11.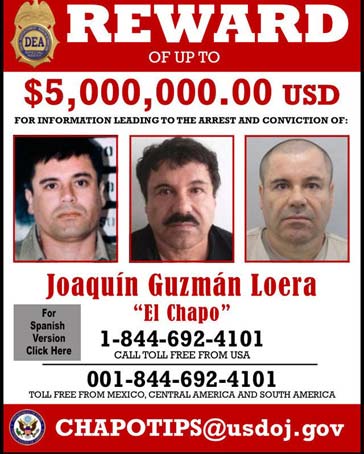 The U.S. Drug Enforcement Administration (DEA) this week launched a wanted poster, tip line and email address for information on Guzman. The State Department is offering a US$5 million reward for information that will lead to his recapture.