A local musician, spiritualist and activist for indigenous rights has been named among the victims of a mistaken attack on group of Mexican tourists by the Egyptian military that killed 12 people and injured nine.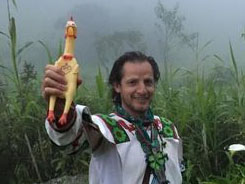 Jose Rafael Bejarano Rangel, 41, was reportedly one of 12 people from Guadalajara in the 14-member tour party that arrived in Cairo on September 11.
He was well known for his work as a shaman and support of Jalisco's Huichol people, as well as for volunteering in Africa. Bejarano's brother said he had lived and worked as a musician in California for three years and called him a "much loved man of peace."
According to his brother, Bejarano was making his second visit to Egypt with his 63-year-old mother Marisela, who organized the trip and was apparently injured in the attack.
Egypt's Interior Minister confirmed Monday that eight Mexican citizens died the incident but this country's government did not corroborate the death toll until Tuesday.
"That is the information we have," Mexican Foreign Office official Reyna Torres said in response to a journalist's question whether eight people had died.
Four Egyptian citizens also died in the attack, and two were injured.
Egyptian officials admit the group was fired upon after been mistakenly identified as terrorists but insist they were traveling in a restricted zone.
An official said the 4x4 vehicles used by the convoy of tourists resembled those of terrorists being chased by security forces.
The tour party had stopped for a picnic en route to an oasis when they were attacked by an Apache helicopter.
On Monday evening, Mexican Foreign Minister Claudia Ruiz Massieu flew to Cairo in the presidential plane, along with family members of the victims and medical staff who will asses the condition of the injured.
"We will demand a thorough investigation and explanation from the Egyptian government, " she tweeted.
According to reports, Marisela Berenajo had previously organized similar trips to Egypt and expressed confidence in the local tour company she worked with. They had permission to travel in the zone, her daughter said.
Reports indicated that María Elena Cruz Muñoz, a former Jalisco federal deputy from the National Action Party (PAN), was among the group of tourists that had traveled to Egypt.