After barely a month on the job, Ezechiel Alvarez has gained a firm handle on his duties as head officer at the Chapala branch of the Instituto Nacional de Immigración (INM).
In a chat with the Guadalajara Reporter this week he indicated that local immigration services are running smoothly, as the staff works overtime to stay up to date on the area's high volume of services.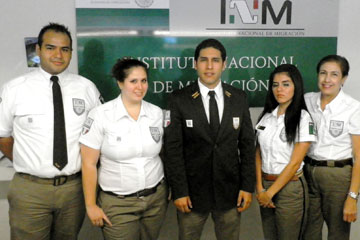 He said the office has now caught up on a backlog of case files that built up following implementation of the Ley de Migración and new regulations that took effect in November 2012. And delivery time for Immigration ID cards has been cut down significantly now that they are being made in Guadalajara's regional INM headquarters.
According to INM records, the majority of Lakeside's full-time foreign residents are now opting for Residente Permanente status. Assuming adherence to filing procedures and presentation of requisite documentation, expats seeking a change from temporary to permanent residency can expect start to finish processing of their applications in three to four weeks, Alvarez said.
The new chief comes to Chapala after a stint at the INM's Guadalajara airport branch. Prior to that, he worked for legal agencies run by the state government.
Alvarez insists that foreigners can count on INM personnel for friendly and reliable guidance on all kinds of immigration matters. "We are here to help people and show them that it isn't difficult to handle procedures on their own." Nonetheless, he notes that about 60 percent of local expats choose to hire independent agents to take care of most of the paper and footwork.
Although many local intermediaries seem to be competent and honorable, the INM office does hear frequent complaints about the ones who charge exorbitant fees, mismanage cases or fail to keep their clients abreast of how procedures are progressing.
The Chapala INM office, located at Hidalgo 271, is scheduled to open for business Monday through Friday, 9 a.m. to 1 p.m., except for national holidays. Officials posted at the two front office ventanillas (windows) attend to an average of 20 to 30 customers per day. Extra staff is often pulled in from the back offices on busy days. Once inside the door, visitors should register in a log kept at the counter. Seating in the waiting area is limited.