Facing a barrage of complaints concerning deficient garbage collection services, Ajijic Delegado (administrator) Rafael Escamilla is intent on rallying town residents to do their part in keeping the streets as clean as possible.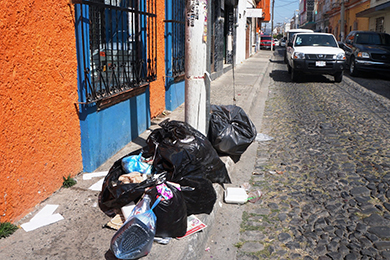 In a meeting at his office held late last week, Escamilla set up an ad hoc citizens committee to develop strategies and discuss long-term solutions. The group will convene on alternate Thursdays, 7 p.m., with the next gathering set for March 10. All interested parties are welcome to attend.
Initial efforts will focus on a public awareness campaign to encourage conscientious practices in handling household wastes. Escamilla said that plans are in the works to hold a street march to spread the word, possibly as soon as Friday, March 11. He added that printed public notices are now being delivered door-to-door.
His principal recommendation is for householders to deposit bags of refuse on their doorsteps between 7 and 8 a.m. on weekdays only. However irregular sanitation department services happen to be, trash collectors usually finish their routes through the village by noon. Garbage left out after that hour, overnight or on Saturdays and Sundays frequently ends up strewn about by roaming pets and nocturnal human scavengers.
Escamilla also advises residents that garden clippings and other green waste is picked up by the Ajijic maintenance crew making the rounds in the center of town on Thursdays only. No more than two or three bags of green waste should be put out for collection on that day of the week. He requests that expats tell their domestic employees to comply with the rule.
Householders who need to dispose of large amounts of any type of refuse should visit the Delegacion office or call 766-1760 to request an appointment for special collection or obtain contact information for private services.