Over the next two years Chapala will metamorphose from scruffy tourist town to breathtaking visitor wonderland if the current municipal administration succeeds in its grandiose plan to totally revamp the Cristiania Park, Acapulquito restaurant strip and east end of the waterfront, along with added improvements in the downtown area.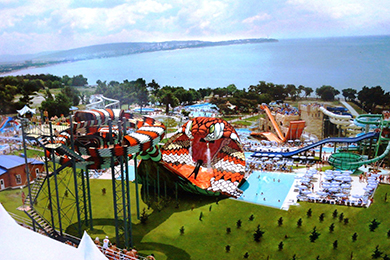 The package of projects includes turning the park's dilapidated swimming pool and water slide area and surrounding land into a vast outdoor activity theme park to be called Chapala Adventure. It will be filled with attractions such as bungee jumping, rappel, paint ball, go-carts, hanging bridge, water park, roller coaster, recreation for children, horseback riding, a malecón and theater and dining concessions. The price is estimated at 25 million pesos, with funding provided by the state and federal tourism ministries.
Designs drawn up for complementary projects in adjacent areas encompass a botanical garden, camp grounds and the Museo del Lago. The garden will showcase flowering trees and green areas, at an investment of four million pesos. The museum will feature displays related to water conservation and lake themes, native flora and fauna and the region's geological history park, costing five million pesos.
The crowning piece in the extreme makeover game plan is the Chacaltita Cultural Forum that will extend from the east end of the Malecón out into the water towards the artificial isle of Jesus the Fisherman. It will be composed of an elevated pedestrian bridge connecting a pair of circular platforms to accommodate dancing fountains, laser lamps and a projection screen for after-dark light show spectacles. The price tag: 31 million pesos.
Bonus projects inc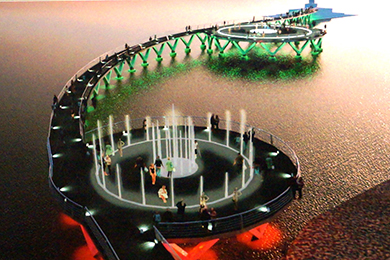 lude facelifts for the string of Acapulquito eateries, completion of a paved parking lot where the old craft market was demolished and a second car park to come later, giving capacity for 1,200 cars. Tag on a series of small docks dotting the shoreline contemplated to boost boating and aquatic sports. And back in the center of town, a beautification plan calls for painting 10,000 homes in vivid colors.
Mayor Javier Degollado is intent on accomplishing a mega transformation before his term of office runs out at the end of September 2018. To that end, he and Urban Development Director José Barajas have made multiple trips to Guadalajara and Mexico City to scrounge up all the required funding, chalking a grand total of 78 million pesos from any available government program. They are expecting about a quarter of that amount to roll in the within the next three months to get initial work off the ground in mid-summer.