Pope Francis' visit to Mexico February 12-17 will be of a pastoral nature and he will not be making any political statements during his six-day stay here, Vatican sources say.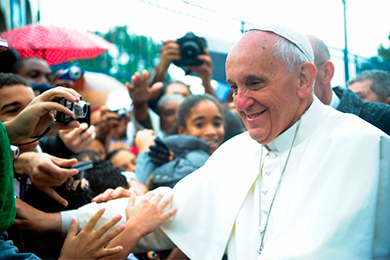 Nonetheless, the pontiff's schedule has been carefully arranged to give maximum exposure to themes in his agenda that he cares about deeply, including issues affecting migrants, indigenous people and youth.
Some U.S. hardliners, however, might construe his plan to walk to the edge of the Rio Grande to kneel and pray for the more than 6,000 people who lost their lives trying to cross the U.S. border in the past 15 years as an ambiguous political act. His advisors say he will simply show respect for the human dignity of migrants and their families.
Pointedly, the pope ends his visit with an outdoor mass at the Ciudad Juarez fairgrounds. The fence that separates the United States and Mexico will be visible behind the altar, some reports suggest.
During his tenure, Pope Francis has made many pleas on behalf of migrants and those fleeing persecution, making it a central theme of his pontificate. In a Mass held at the Vatican on World Day of Migrants and Refugees, the Pope told an audience of 5,000 migrants and refugees: "Each of you carry in yourselves a history, a culture, precious values … Many of you have experienced misery, oppression and fear. Don't let anyone rob you of this hope and the joy for life." Last month, in a speech to the Vatican diplomatic corps, he said, "There is no place for autonomous solutions pursued by individual states" when dealing with the mass movement of people. In Philadelphia last September, Francis reminded Americans how immigrants brought "gifts" which helped to "renew" the United States. "Never be ashamed of your traditions," he said.
Please login or subscribe to view the complete article.