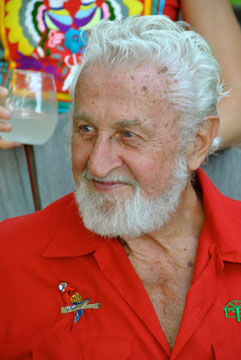 The Reporter is pleased to be able to print this tribute to the late Edward Kular submitted by his daughter Jennifer.
It is with heavy hearts that we announce the death of Edward John Kular, who passed away in Mexico on February 9 at the age of 81. Eddie was a wonderful husband, Dad, Dziadzi, brother, and uncle. He leaves behind his cherished children, Teresa (Brad), Chris (Jan), Steve (Tina), and Jennifer (aka, Beanie.) He was proud to have four grandchildren, Jenna (Scott), Tiffany (Mick), Eddie, and Danny. His latest delight was Talia, his great granddaughter. Eddie will be sadly missed by his sisters Christina, Stephanie and Leona, and many nieces and nephews, as well as his sister-in-law, Marie. Eddie's beloved wife, Joanne, passed away 11 years ago and he was looking forward to being with her again. Seven years ago, Eddie was blessed to find Nina Discombe, who was his companion until the day they died together.
Eddie's love for his family was immeasurable. Although he spent over 50 years in the printing industry, Eddie could have been a teacher – he was a natural. He enjoyed learning and sharing – whether that was showing someone how to bait a hook, throw a baseball, light a fire, skate on the ice, flip a pork chop, cut a two-by-four, dance the polka, watch a hockey game, or lend an ear. Eddie loved having people around: the more the merrier. He was larger than life and if you ever had the chance to meet him, you were familiar with his strong handshake and great bear hug. Always ready with an offer of a rum and Coke, a Baileys or a hunk of kielbasa (he was known to travel with pepperoni in his pocket! )
In 1973 Eddie fell in love with Muskoka, Ontario, and in 1978 with Mexico.  It was in these places that he and Joanne built strong friendships and created lasting memories. Muskoka was the place to get away from the city, gather with family, and live a simpler life. When the grandkids came along, he'd start his day with a visit to the "money creek" and a trip to the bakery. This was followed by music on the eight-track, a day on the dock, a fine BBQ dinner and a good game of euchre. Weekends at the cottage were, and are, a treasured memory.
Mexico was Eddie and Joanne's divine pleasure. For 30 years, they looked forward to March in Mexico, and when they retired, spent the whole winter there. Ajijic held a very special place in their heart. While the warm sunshine was a welcome draw from the winter climes in Toronto, the people of Mexico were held in high esteem for Eddie and Joanne. At one point or another, members of the family took turns visiting them in Ajijic. Eddie and Joanne proudly introduced us to other snowbirds, as well as their Mexican friends. A trip to Tlaquepaque or Jocotepec was a special treat and exploring the Wednesday Market was a great way to experience local culture. If we went at the right time, we got to join Eddie at one of his favourites, the Chili Cookoff.
After Joanne passed away in 2003, Eddie continued to visit and enjoy Ajijic. It was here that he met Nina, who became a loving companion.
While we are deeply saddened by the loss of our Dad, Dziadzi, brother, uncle, friend, we are doing our best to pick up the pieces and celebrate the incredible, kind, generous person we all loved for so many years. Throughout their time together, when Dad wrote cards and notes to Mom, he would sign his name with,  "Save the last dance for me." Dad, we know you and Mom are finally in each other's arms, so beautifully swaying across that dance floor.