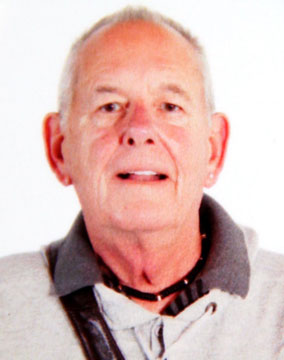 Alan Hobart Parsons died suddenly in Ajijic on January 31 at the age of 71.
Parsons was born on January 22, 1943 in Northhampton, Massachusetts. He graduated from Northhampton High School in 1961.
His professional life was highlighted by a lengthy stint as director of catering at the historic Peabody Hotel in Memphis, renowned for its resident Mallard ducks that perform a red carpet march through the lobby every day for a dip in the marble fountain.
Parsons resided in Daytona Beach, Florida before settling at lakeside nearly a decade ago. He was an excellent golfer, an avid bridge player and also loved playing the piano. He was a long-time member of AA. He won many local friends and admirers through these activities.
Parsons was preceded in death  by his parents and brother Morgan. He is survived by his sisters Virginia (Frank) Hadley of Fall River, Massachusetts and Jane (Bill) Dobier of Westerville, Ohio; sister-in-law Ann Parsons of Northhampton, Massachusetts; and several nieces and nephews. 
Bruno Sclisizzi
Popular Ajijic expat restaurateur Bruno Sclisizzi passed away peacefully on January 25. He succumbed at the age of 88 after battling several years of declining health.
Born in Milton, Ontario in 1926, he was a first generation Canadian, the son of Victoro and Angelena Sclisizzi who emigrated from Unida, Italy several years prior to his birth.
Sclisizzi was a successful entrepreneur whose career path took him in many different directions. As a young man he worked in the lumber mills, pocketing savings to launch a school for hair dressers that prospered to become a chain operation.
After retiring at age 40, he moved from Toronto to San Miguel de Allende, Guanajuato where a love for fine food eventually prompted him to venture into the restaurant trade. He established El Circo, a lively hotspot that quickly gained popularity among discerning diners.
Sclisizzi relocated to the lakeside area in the early 1980's. He started up a roadside barbecue pit on the western outskirts of Ajijic, dishing out sumptuous grilled ribs that drew a loyal clientele.  The business soon expanded into Bruno's Restaurant, with a permanent home on the highway in central Ajijic that pulled in customers with its matchless baseball filet, prime rib and baked potatoes.
Sclisizzi was predeceased by his parents, brothers Merigo and Ottello, sister Maria and wife Margery Elsie Sclisizzi.  He is survived by daughter Vicki Laurie Sclisizzi and grandson Kelton of Ajijic; daughter  Karen Leigh Sclisizzi Carilla and granddaughter Jennifer of Toronto. 
Under management of Vicki and Kelton, Bruno's Restaurant lives on as legacy to a inimitable chef and beloved local personality.