Federal authorities are committed to completing the "Via Corta" (Short Route) from Guadalajara to Puerto Vallarta and are adamant the much anticipated toll-road will not be not be shelved like all the previous projects proposed over the past five decades.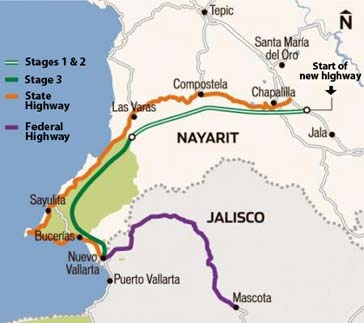 Even with the federal budget restrictions implemented this year, and a similar pessimistic outlook for 2016, the Transportation Secretariat (SCT) believes there is nothing to prevent the new four-lane highway from being finished on schedule in 2018.
Nonetheless, the SCT is studying the possibility of awarding a private concessionary the task of completing – and subsequently operating – the most complicated stretch of the highway, between Las Varas and Nuevo Vallarta, according to SCT Nayarit Director Jesus Miramontes.
This stretch of the autopista has a budget of six billion pesos, the same as the total for the first two legs combined.
The SCT says the first stretch of the new highway, between Jara and Compostela, will be ready for opening in December of this year. The second stretch from Compostela to Las Varas is scheduled for completion in the first semester of 2016.
The final stretch that will allow travelers to avoid the dozens of slow-moving and dangerous "curves" on coastal Highway 200 will not be finished until the beginning of 2018.
The new highway is expected to cut driving time from Guadalajara to Vallarta from four to two and a half hours. The local business chamber is gearing up for a 20-percent hike in domestic tourism when the road is up and running in 2018, sources say.