Scarves, mittens and heavy winter jackets were the order of the day this week, as an exceptional storm system battered north and central Mexico, with high winds, driving rain and unusually cold temperatures reported in more than 80 percent of Jalisco.
The weather phenomenon was enhanced by a rare area of low pressure over central Mexico that provoked snowfalls in mountainous regions and high terrain of ten states, including Jalisco.
Temperatures fell as much as 20 degrees below average for some parts of the country through this week.
Jalisco Civil Protection Director Trinidad Lopez Rivas said Wednesday, March 9 was the coldest day in the state this year, with minimum temperatures falling to three degrees Celsius (37.4F) in the municipality of Colotlan, five degrees (41F) in Tapalpa, Mezquitic, Jamay and Totatiche and between six and seven degrees in many others.
Snowfalls were reported in Tapalpa, Huejúcar, Huejuquilla, Totatiche, Villa Guerrero and Mezquitic, and sleet showers in several municipalities of metropolitan Guadalajara, Lagos de Moreno, Encarnación de Díaz, Ojuelos, San Julián, and a score of other regions.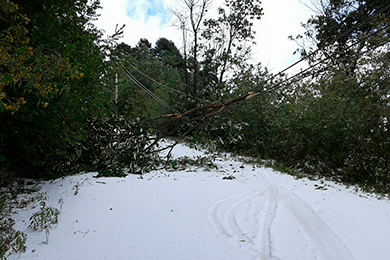 Access to the Nevado de Colima National Park was restricted after three to five centimeters of snow blanketed a large portion of the extinct volcano. Accumulation of snow and mud made roads leading into the park difficult to negotiate. Fallen tree branches also littered access roads.
Although few reports of flooding were received, Civil Protection confirmed that 90 of Jalisco's 126 municipalities experienced significant rainfall this week. A woman died Wednesday when a tree fell on her car in heavy rain on Guadalajara's Avenida Federalismo near the Urdaneta Tren Ligero station.
With the National Weather Center predicting the cold snap to continue through the weekend, the Jalisco Education Department took the decision to suspend classes in 32 municipalities on Friday. The measure affects 265,665 students at 3,133 schools, none in the Guadalajara metropolitan area.
Schools in Zacatecas and Estado de Mexico had suspended classes earlier in the week due to the adverse climate. Other states affected by rains, high winds and low temperatures were Tamaulipas, Chihuahua, Coahuila, Nuevo Leon, San Luis Potosi, Veracruz, Puebla, Michoacan, Morelos, Chiapas, as well as Mexico City. Temperatures of minus five degrees Celsius were recorded in parts of Sonora, Chihuahua and Durango.
Agriculture officials in Jalisco reported damage to some 1,500 hectares of crops caused by the snow and sleet, chiefly sugar cane, agave and avocado.