The Satellite Rotary E-Club of Lake Chapala has accepted an exciting vocational training project, Mariposa Project/Butterflies in Mexico which is aimed at teaching local girls and women, ages 13 to 25 the skills needed to find employment in the fields of textile design and production.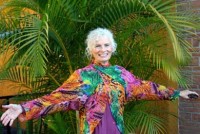 Instructor Jan Manning, and Bernadine Jansen, the group's executive director, have created a curriculum and are ready to begin a pilot project
with the group's partner, El Corazon Creativo, the local artisan cooperative at Galeana 14 in Ajijic.
The sales of the beautiful prototype garment style entitled "the Ronda," have generated enough seed money for fabric and thread for the first class. Interested students must commit to attending a two-hour class every Saturday for six months in order to complete the 48-hour course of study. The requirements for participation are demanding, but the rewards will be great.
The pilot program will begin with a small number of students in February. For more information about donations of fabrics, thread, notions, tools and other items, call Janzen, (387)761-0360 or email: This email address is being protected from spambots. You need JavaScript enabled to view it..">This email address is being protected from spambots. You need JavaScript enabled to view it..