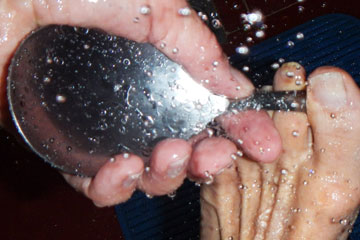 Many years ago, out of pure curiosity, I bought a soap-shaped bar made of stainless steel, which, an ad claimed, would totally remove the smells of garlic, onions or fish from your skin in seconds.
All I had to do was rub my fingers on the bar under a stream of cold water. To my surprise, the steel bar performed perfectly and has continued to do so for nearly 40 years. Even more surprising was my discovery that there was absolutely nothing inside that hollow bar, no gimmick of any sort that I could find.
Fast forward to present time. We are in the workshop of master sculptor Martín Navarro Ibarra of San Juan Evangelista, on the shore of Lake Cajititlán. Navarro Ibarra is describing some of his techniques and allowing me to photograph them. I pick up one of his works of art: "What a beautiful glaze on this pot," I remark.