Although born within two blocks of each other in the coastal resort of Mazatlan, husband and wife Liliana and Fernando Garcia didn't meet until 20 years later when they were both working in Guadalajara.
Many chefs flying in from the United States and Canada to compete in Ajijic's Mexican National Chili Cookoff over the years came with a huge assortment of spices, frozen meat, special canned and bottled ingredients and a favorite pot and skillet in their luggage.  Others just play it by ear.
Ever wondered how to prepare the ideal cup of coffee? If so, good news: Coffee expert and Guadalajara resident Rudy Reteig has released a booklet detailing the best methods of roasting, grinding and brewing those beans.
As promised in last week's Reporter, here is our guide to the best gourmet/fusion eateries in Guadalajara.
Mia Pratt and Peter Tarwid recently opened I Love My Sugardaddy Barbecue Takeout in Plaza Montaña on the highway in Ajijic. If you know anyone who's tried their food, then you've heard how good it is.
Cosmopolitan Guadalajara is home to a wide range of international restaurants.
Local Canadians and everyone else who enjoys turkey dinners won't go hungry on Canadian Thanksgiving Day on Monday, October 8.
Friends and lovers at Lakeside will have some interesting choices for their Valentine's Day (known as Dia del Amor y la Amistad in Mexico) celebrations.
For seven years, the tiny Guadalajara restaurant Goa has been beckoning customers in from Lopez Cotilla near Chapultepec with its vibrant multicolored lamps hanging from its vibrant yellow porch and of course its vibrantly seasoned northern Indian cuisine.
Many busy Lakesiders enjoy those special few days each year that are set aside for contemplation, rest and spending good times with family and friends. Great food is also part of the scene and several local restaurants are stepping up and stirring up delicious, exquisite meals just perfect to celebrate the season.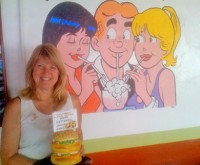 Malted milkshakes, root beer floats, cherry cokes, Philly cheese steak, chili dogs. These are the things that make your taste buds salivate over a certain era — when Dwight D. Eisenhower was president and cholesterol wasn't on the radar.
Amy Potter fell in love with Mexico, its people and its family — "not stuff" — oriented society. After five years in Ohio she also liked that there was no snow. Sounds like a lot of expats here.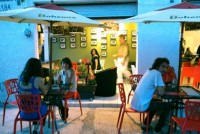 How encouraging it is to see a flurry of new art-oriented cafes, bistros and gourmet restaurants sprouting up in the city, now that Guadalajara has been designated "the cultural capital of the Americas." La Mata Tinta, a great new bistro recently opened its doors to a standing-room-only crowd Wednesday. This is an off-shoot of the flagship operation in Tlaquepaque at La Parian, where they have curried experience catering to exquisite tastes for the last eight years.
While some will head to the beach to celebrate U.S. Thanksgiving, some admirers of the day's traditional fare, will make their ways to local restaurants. Several local eateries are in the know about the particular dishes and flavors of the day and can provide a broad spectrum of culinary delights on Thursday, November 22.
To compensate for the  heat, an abundance of deliciously ripe fruits of all flavors, sizes and colors can currently be found in Mexico's  mercados and supermarkets.
Turkey will be the main attraction on many home and restaurant menus next week. A golden turkey, on a large platter, is a sight to behold as it's carried to the table.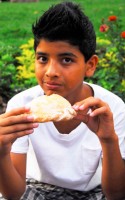 Chocolate eggs may be a long-standing Easter tradition north of the border but are not considered a culinary holiday treat in Mexico.
Fans of French cuisine are in for a treat in November, as a five-star hotel hosts the Festival Gourmet de Au Pied de Cochon, named after the French restaurant of the same name in Mexico City.
Growing up near Boston in the 1960s meant you ate fish every Friday. Now the Roman Catholic tradition is only observed with any regularity during the 40 days of Lent, even in traditional Guadalajara. With cod and haddock going for upwards of ten to 20 dollars per pound in New England, one can appreciate the reasonable prices found in the metro area's markets for Mexico's Pacific coast seafood.
Lula Bistro, Guadalajara's fine dining spot run by Irish chef Darren Walsh and his wife Clara, has been nominated by Travel and Leisure Mexico for two Gourmet Awards.
At Lakeside options abound for imported goodies at El Torito, Puritan Poultry and SuperLake, but apart from a few turkeys, at Wal-Mart and Soriana stores in Guadalajara nary a can of cranberry sauce could be found to help make a Thanksgiving feast possible during this week's Consumer Survey.