Artist and gastronomic guru José Melendrez is bringing novelty to Ajijic's dining scene with the launch of Mandragora, the area's first pop-up restaurant.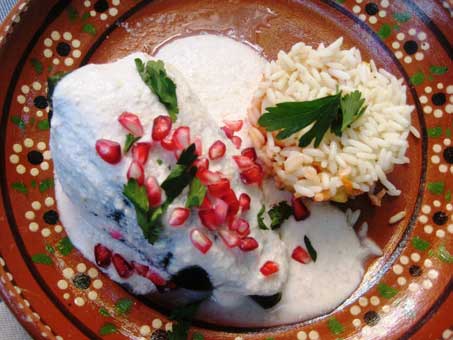 His concept is to offer gourmet dinners on occasional dates and varied locations according to his personal inspirations and time constraints. The culinary happenings are planned on the basis of advance ticket sales.
The name Melendrez chose is the Spanish word for mandrake, a wild plant known for its medicinal and mystic properties, conjuring thoughts of the chef's magical abilities to harmonize enticing flavors, as manifested in the two introductory seatings held Friday, August 28, outside his shop on the Ajijic plaza.
The palate pleasing five-course menu kicked off with a light quinoa salad complemented by a ginger-mango dressing, followed by a bite-size black bean tamal topped with a chile ancho sauce and a drizzle of crème fraiche.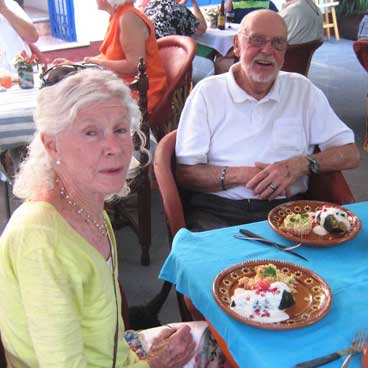 The main dish was a perfectly executed chile en nogada, a poblano pepper stuffed with a meat picadillo flavored with fresh peaches, pears, apples, pine nuts and almonds, bathed in a luscious walnut, cream and goat cheese sauce and garnished with a sprinkling of pomegranate seeds and chopped parsley.

The next item, call it an amuse-bouche or entremet, was a spoonful of crispy chicharrón de queso cotija – a paper thin cheese wafer broken into small tidbits – counterbalanced by a dab of rosemary-scented fig jam, a delightful taste bud teaser.
The meal closer was a slice of corn-coconut cake served with strawberry coulis and a rompope chaser to sip or pour over the top at the diner's preference.
Look for Melendrez at the Tuesday Farmer's Market, La Huerta events center, to enquire about future Mandragora pop-ups.