Members of a communal land holding (ejido) demanding payment for territory expropriated for the construction of the Guadalajara International Airport nearly 60 years ago blocked the facility this week.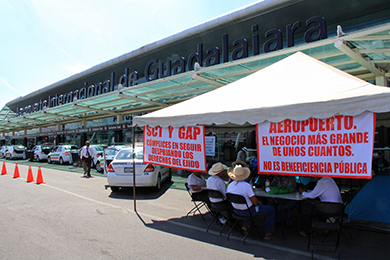 The action by El Zapote Ejido led to long lines of cars waiting to access the airport's drop-off area. The demonstrators blocked the entrance to the car park on their second day of protest.
Nicolas Vega, the president of the ejido, said the blockade was started after community representatives failed to reach an agreement with authorities over compensation in the long-running dispute.
The ejidatarios are demanding the federal Communications and Transportation Ministry (SCT) pay them the commercial value for the disputed 307 hectares in question, and not its lower cadastral value.
The 94 communal land owners who are making the claim say they will hold out for the maximum payout after courts have ruled in their favor annulling the original expropriation of the land to build the airport.
The land owners recognize that the land obviously cannot be returned to the ejido, and say the matter can only be resolved through negotiation. So far, the SCT has been unwilling to listen to their demands, a representative said this week.
Many people turning up at the airport Monday who were affected by the protest expressed irritation at the action. "It's fair that they get paid, but it is not fair that they affect third parties," said Miguel Ramirez.