Ajijic will be the site of the first official United States Dog Agility Association (USDAA) competition to be held in the state of Jalisco. This inaugural event takes place at the Hotel Perico on the Libramiento on Saturday February 27 and Sunday, February 28.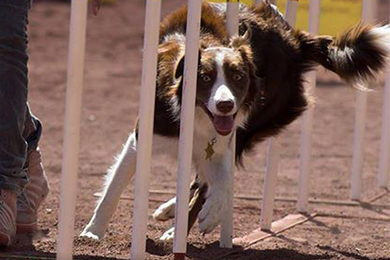 Chapala Mayor Javier Degollado and USDAA President Kenneth Tatsch will officially open the event at 9 a.m. on Saturday.
Competition begins on both days at 9:30 a.m. and is expected to run until 6 p.m. on Saturday and 4 p.m. on Sunday.
Competitors will be coming from across Mexico as they prepare to qualify for the Cynosport World Games to be held in Scottsdale, Arizona from November 9 to 13.
The Western Agility Organization (WAO) held two events in 2015 to achieve qualification status to run official USDAA competitions.
Next weekend's event will be run under USDAA rules, which can be found at www.usdaa.com. Dogs run in size categories from 8" to 26" for Championship courses and 8" to 20" for Performance courses. Performance agility is considered recreational or accommodates older dogs. Dogs running at Championship and Performance level, however, are seeking qualification points to compete at the World Games.
The judge is Ann Croft from San Diego, California. She has 20 years of experience in agility and is a qualified AKC, USDAA, UKI agility judge.
Spectators are welcome and there is no entry fee to attend. Snacks and beverages will be available for purchase.
Hotel Perico is on the Chapala-Ajijic Libramiento 2500 (entrance beside the Michelin tire shop).
For information on registration, email Mary Steele at This email address is being protected from spambots. You need JavaScript enabled to view it..">This email address is being protected from spambots. You need JavaScript enabled to view it.. Registration closes on February 22. For all other enquiries, contact Jena Olio at This email address is being protected from spambots. You need JavaScript enabled to view it. or call (044) 331-349-2801.