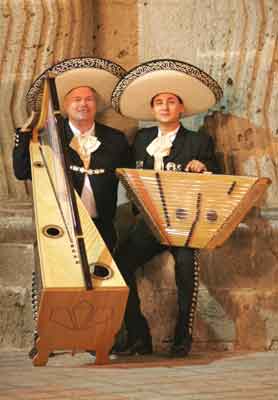 California-born harpist William Faulkner stands out on the bill of solo artists slated to appear at the 12th Encuentro de Arpas, Salterios y Mas, to be held Wednesday, June 4, 2 to 10 p.m., on the grounds of Chapala's Centro Cultural Gonzalez Gallo.
The off-beat music festival will bring together ensembles and soloists from Jalisco and points beyond to showcase traditional Mexican tunes performed on the Mexican folk harp, psaltery and a wide array of string and other acoustical instruments.
Prompted by a life-time passion for Mexican music, Faulkner took up playing the Jalisco folk harp in 1979. Over the following decade he directed and played with California's Mariachi Mixtlán. He has been performing as a solo harpist in the style of Zapotíltic since 1983, making appearances at the Edinburgh Music festival and numerous other venues around the globe.
As a master of the genre, he has conducted workshops in California, New Mexico, Texas, Arizona, Mexico City and Guadalajara. He has compiled descriptions of different types of folk harps and the history of their evolution in the Americas for his website www.jaliscoharp.com.