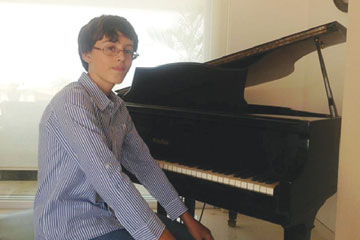 A sweet deal to acquire a piano for the Centro Cultural de Ajijic (CCA) is the motor propelling three events on the calendar for successive Saturdays this month.
The piano was put up for sale by Saúl Ibarra Ramos, a 13-year-old lakeside area prodigy who, on the advice of his music coaches, is trading up for a concert quality instrument. When he offered the Wurlitzer baby grand to CCA for 25,000 pesos, less than half of its market value, the center's director Efren Gonzalez seized on an opportunity that was too good to pass up.
Without receiving so much as a down payment, Ibarra delivered the piano to the CCA stage just in time for the May 29 appearance of the University of Guadalajara's Ensamble Vocal. He is counting on a fund-raising campaign launched by Gonzalez to collect on the good faith transaction.
The first in a series of pro-piano benefits is an art auction to be held Saturday, June 14, 4 p.m., at the doorstep of the CCA on the north side of the Ajijic plaza. With the affable Gonzalez wielding the gavel, art lovers will have a chance to pick up great buys on a big selection of works by local artists in varied media, including oil, acrylic and watercolor paintings, pastels and sculptures.