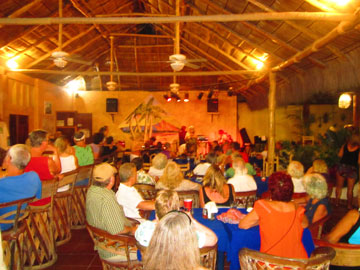 If you are planning a getaway to our coast and wondering what are some of the must-do activities, here is a list of La Manzanilla's top five in no particular order.
Take a Mangrove Tour.  Along with over 300 resident American Crocodiles living snout to tail in the mangrove, you'll also see turtles, iguanas, an impressive array of native birds and learn about the important role a mangrove plays in coastal ecology.  The tours start about an hour and half before sunset to take advantage of the cacophony of sounds as the birds arrive to roost for the night.   Expert naturalist Davison Collins offers the tours which include binoculars, species guide, life jackets and engaging commentary.  Collins is passionate about conservation and his enthusiasm and knowledge make this an entertaining and educational introduction into the mangrove habitat.   For information or to book a tour call 315-104-5442 or email This email address is being protected from spambots. You need JavaScript enabled to view it. .
Catch an Open Mic Night.  From December through February, Palapa Joe's hosts a twice-monthly Open Mic, usually the second and fourth Saturday of the month.  Who knew there was so much talent hanging around our little pueblo? You can see smash poets, folk songstresses' channeling Joan Baez, stand-up comics, kids playing piano and more.  The evening comes to an end with owner, Willy Mason, jamming with as many as ten other musicians and the audience up on their feet showing off their best dance moves. Show starts around 7 p.m., best to arrive early if you want a seat; the crowd often spills out to the restaurant's garden.
Breakfast on the Jardin and the Friday Tianguis.  Friday is our market day and it's always entertaining hanging out at Café Risa or Caffé del Mar and taking in all the action before heading over to purchase those must-have items.  Of course you can find traditional Mexican arts and crafts but the tianguis is also the place to buy organic coconut oil, fresh berries, hand-rolled cigars, fresh greens from the Tierralegre garden, DVD's, used clothing, old coins and artisan jewelry. 
Take in Some Art.  The Galeria La Manzanilla hosts monthly artist receptions featuring fine art works from local and national artists.  Sip wine, chat with the artist, nibble on some appetizers, and make a purchase! See www.ArtInMexico.com for a schedule of upcoming openings.  The last Sunday of January features La Manzanilla's Annual Art Walk from 10 a.m.-3 p.m.  This is your chance to purchase an original piece of art directly from the artist.  Organizers have more than 30 artists on the roster this year.  Maps are available throughout town to help you plan your day. Look for donation boxes at various venues, money raised goes to support art projects for local kids.  Last year the Art Walk committee funded materials for a mural on the Ejido building.  Efren Gonzalez donated his time and talent for the design and helped local kids to complete the painting.
Sunset Drinks on the Beach.  Grab your favorite beverage, camera, and head to the beach for the nightly show that is never the same and never disappoints.  Be on the lookout for the famed green flash optical phenomenon which many have reported seeing while sipping tequila on the La Manzanilla beach.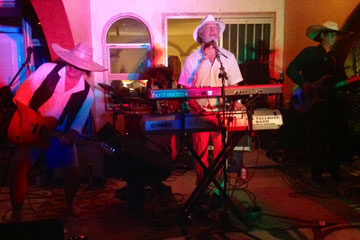 Upcoming events
Zumbathon to support free memberships for teens 12-15 years old at Activos! Estilo de Vida. Saturday, January, 4, 9-11 a.m. at the gym, refreshments will be available.  Fifty-peso fee for the two hour danc efest featuring four instructors.
Fashion by the Sea at Chantli Mare in Boca de Iguanas.  Friday, January 10, noon, enjoy a gourmet lunch and fashion show.  350 pesos with proceeds used to support La Catalina Educational Foundation. Contact 315-351-5540 for tickets.
Galeria La Manzanilla welcomes artists Enrique Gordiano and Mazinka Rutherford, Friday, January 10, 4-7 p.m. for a mMeet the artist reception.
Traditional Sweat Lodge Ceremony Wednesday, January 15, beginning 30 minutes before sunset. Contact 315-351-5362 for additional details and reservations.
Live Music at Pedro's by the Sea on Thursdays 6-8 p.m. featuring Jazz, blues and R&B with duo Mike and Simone. No cover.