In December, Nuevo Vallarta was brimming with culinary delights, all in the name of charity.
The Vallarta Yacht Club  hosted the 13th Annual Chili Cookoff - this year with a new twist - combined with the first annual "Taste of Nuevo."
Chefs from 30 restaurants joined forces with chili-cooking locals to offer 400 hungry visitors samples of dishes ranging from ceviche to grilled beef,  chicken mole, waffles a la mode and much more.
Plus, of course, chili!
The yacht club divided the net proceeds equally between the Puerto Vallarta Navy League Toys for Tots program and Fundación Families at the Dump.
The Nuevo Vallarta malecón proved the perfect venue, and thanks to support by Marina Nuevo Vallarta, promotional efforts by Riviera Nayarit and the generosity of the many restaurants and volunteers, the event was a huge success.
Each charity received a donation of 28,355 pesos, a great way to support these organizations, whose programs focus primarily on helping disadvantaged children to have a better life.
Support of the Puerto Vallarta Navy League and Families at the Dump are part of the Vallarta Yacht Club Community Action Program. The Yacht Club works to support the community through annual efforts which include not only the Chili/Taste of Nuevo event, but also a Christmas toy drive and shoe/clothing drive.
Located in the Paradise Village Marina at Paseo de los Cocoteros No. 001, Interior 20 in Nuevo Vallarta, the Vallarta Yacht Club is a non-profit membership organization known for its contributions to yachting within the Banderas Bay region.
For more information, visit vallartayachtclub.org, call (322) 297-2222, or email This email address is being protected from spambots. You need JavaScript enabled to view it. .
Taste of La Cruz
What has become one of the Riviera Nayarit's most anticipated experiences, Taste of La Cruz, is just one week away.
It is set for Saturday, January 18, from 3 to 7 p.m., along the malecon of the Marina Riviera Nayarit.
This year's event will once again feature restaurants, businesses, artists, craftsmen and entrepreneurs from throughout the north shore area, offering goods and services for sale.
Live music, on the stage of the Xiriki Amphitheater will be Luna Rumba (featuring Geo & Cheko), Crazy Bitches (from the Luna Lounge), Latcho & Andrea (the Blond Gypsies) and the Banderas Bay Jazz All Stars.
Spend an afternoon at this beautiful venue on the bay enjoying a stroll, stopping for a drink and a meal or snack and pausing to take in the incredible music.
The restaurants which have already signed on are Café des Artistes, Frascati, 3 Palapas, Oso's Oyster Bar, Los Arroyos Verdes, Hotel Cielo Rojo, Bistro Limon, Casa Hule, Xocolatl by Roberto's and Sonora a la Parilla. Many more already verbally committed but have not made their final registrations.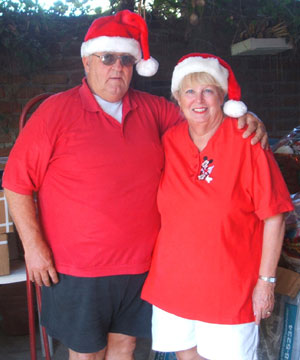 Mr and Mrs Claus retire
Ron and Arlene Tackett (left) decided to end their 20-year reign as Mr and Mrs Santa Claus in their Bucerias Christmas For Children gift and candy giveaway which saw over 1,200 kids participate on December24.
Mystery dinner theater
LaDonna and Bub Schmidt of La Cruz have graciously offered to coordinate a mystery dinner theater presentation entitled "Just Desserts" and will donate the proceeds to the Amigos de La Cruz civic association.
The performances will be presented over several nights in March at the Octopus's Garden on Calle Coral.
"After reading the script it looks to me like it's going to be a real winner," says Lori Wilson, a spokesperson for the Amigos group.
Although auditions have already taken place, there are still opportunities for participation.
No previous experience is necessary, all they ask is that you be available for at least six rehearsals in February, two to four performances in March and are capable of memorizing a few lines.
If acting isn't your thing, there are still other facets of production you can be a part of, Wilson says. They need help in the following areas: prompting, lighting and/or sound, props, costumes, baking for dessert props, serving food, stage breakdown and cleanup and advertising.
Says Wilson: "This event is something new and different for La Cruz and we're excited about this fun way to raise funds and have a blast doing it."
You can contact them at This email address is being protected from spambots. You need JavaScript enabled to view it. with questions or to sign on to the team.
Shopping mall entertainment
The Lago Real shopping mall in Mezcales/Nuevo Vallarta, home of Walmart, is offering family entertainment on Sunday evenings starting at 6 p.m. on the food court stage. After shopping or taking in a movie, relax and enjoy the presentations.
The entertainment kicks off Sunday, January 12, when the Shanti Academy of Dance entertains with a "grand musical show" featuring their students.
Then on Friday, January 17, the full slate of contestants competing in the 2014 Youth Singing Competition come up on stage. The first elimination round of contestants is Sunday, January 19 and the final competition takes place Sunday, January 26.
Youngsters 12 to 25 years old register at www.lagoreal.com.mx. Cash prizes range from 500 to 1,500 pesos and gifts from sponsors will also be awarded.
New tax impacts cat shelter
With over 220 kitties in residence, the Paraíso Felino cat shelter in the near-northshore town of San Juan de Abajo distributes one 11.5 kilogram bag of Costco's Kirkland brand cat food every day. That's a cost of 8,000 pesos monthly, in addition to canned food and litter costing over 2000 pesos.
At that rate, it's been a challenge for shelter director Janina Erban to keep up.
Now, with the Mexican government instituting a new pet food tax, which came into effect January 1, the costs will increase by 16-20% on all pet foods.
To deal with the higher expenses, Erban came up with the Friends of Paraíso Felino Club. People can donate one bag of Kirkland brand cat food or equivalent in dollars or pesos per month. The idea is to spread the burden, not putting too much load on any one person or family.
To date they have steady members but urgently need more to cover the rest of the days of the month.
To join the club, please contact Erban to register your pledge of a bag or bags of cat food per month.
"Distributing the costs in this way will make it possible to assure the wellbeing of the kitties at the shelter that, besides all other problems, are now being taxed to eat," Erban says.
Food- in bags or cans may be left at the Mini Super two doors down from Salon Diva's in Bucerias (with Gina, 322 779-5916) or at the Paraíso Felino shelter. They also have an official account at Banorte where deposits can be made and they accept donations through Pay Pal (see the website at www.paraisofelino.com).
Contact Erban directly  at 322 120-4092 or at This email address is being protected from spambots. You need JavaScript enabled to view it. if you would like to donate, visit, volunteer or if you have any questions.