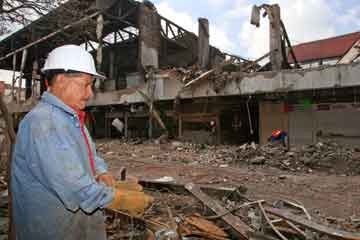 Demolition crews moved into the Mercado Corona this week and could take another two weeks to completely raze the charred market structure to the ground.
The remains of the downtown market have become a macabre tourist attraction ever since a May 11 fire destroyed 70 percent of the historic building.
While city hall debates the future of the site, 700-plus merchants have been left with no place to work.
Last week, Mayor Ramiro Hernandez gave permission for some of the traders to set up stalls along the Pedro Loza pedestrian walkway that runs parallel to Alcalde/16 de Septiembre. However, business owners on the street were furious at the mayor's decision – taken without their consultation – and around 100 marched in protest at the weekend.
"It's bad for us," complained one jeweler. "There will be conflicts, trash, delinquency, less room to move."
Hernandez's chief of staff, Ismael Orozco Loreto, had stressed that the measure was "temporary" and that established business on Pedro Loza would be "compensated" for any loss of income caused by the presence of the new tenants.
But on Tuesday, 20 business owners won a legal injunction (amparo) that would not permit other vendors to trade in front of their stores.
Given the strength of opposition, sources at city hall this week said many officials were having "second thoughts" about the plan. Hernandez admitted Wednesday that the Pedro Loza idea was "becoming increasingly less viable."
An alternative plan is to relocate 150 merchants to the Plaza Augustin Rivera, facing the Universidad de Guadalajara's Preparatoria Uno. Each vendor would be allocated a four square-meter space. Another plan is to install vendors in the Parque Revolucion at Juarez and Federalismo.
Plans for rebuilding the market are already gathering pace with several private construction/development firms expressing an interest in taking on the project. The city council, owners of the market property, have yet to decide how the new structure will be financed. Jalisco Governor Aristoteles Sandoval said the building should be "modern" and a "tourist attraction" but hoped it would "conserve some of its original features."
Some city officials are touting a September 15 completion date for the new market.
Investigators are still probing the cause of the fire, although Attorney General Luis Carlos Najera has already ruled out foul play.