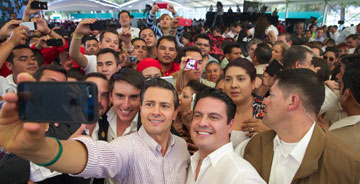 President Enrique Peña Nieto this week opened the newly completed expansion of the Santa Rosa-Ocotlan highway, replacing a road Chapala area locals often referred to as the "Highway of Death" due to the frequency of horrendous head-on collisions.
The heavily traveled 48-kilometer stretch of highway goes from the western outskirts of Ocotlan to the Santa Rosa overpass at the offshoot to Chapala.
The highway runs through Atotonilquillo, Chapala's most distant satellite community, where a particularly high incidence of pedestrian fatalities has brought tragedy and grief to many of the town's families.
With a price tag of 1.6 billion pesos, the improvement project was designed to ease traffic flow for hundreds of cars, trucks and buses that take the route between Guadalajara the east end of Lake Chapala every day, in addition to boosting safety for motorists and pedestrians alike.
The tarmac has been widened from two to three undivided lanes to six full lanes separated down the middle by concrete barriers, with paved shoulders on either side. Overhead bridges and underpasses were installed at strategic pedestrian crossing points. Authorities estimate that the highway work reduces the risk of accidents by 70 percent.
Peña Nieto made a stopover in the lakeshore city of Ocotlán Monday, June 16 on the first leg of a one-day visit to Jalisco. As well as opening the Santa Rosa-Ocotlán highway, he inaugurated Ocotlan's Parque Metropolitano La Eucalera, an eco-park that was rehabilitated thanks to 30 million pesos of federal funds and ten million pesos from municipal coffers.