Longtime Lakeside resident Margo Norah Thomas died in La Pineda, California on August 17 at the age of 94.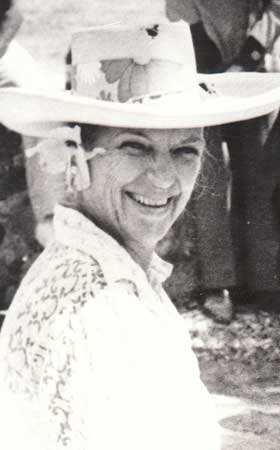 Born on January 16, 1917, Thomas attended the University of Southern California and spent much of her life as the corporate wife of Rawley Montague "Monty" Thomas, in his position as Senior Vice President of the Coca-Cola Export Corporation. The couple spent many years living in Panama, Brazil and Cuba with their three children. Monty Thomas died in 1967 and Margo chose to settle in Ajijic, where she lived until 2002.
She built her home, "Casa Obelisco" (Hibiscus House), on Avenida Independencia, where her children and their families often visited. It was a home where everyone gathered and "fiestas" were always in motion.
Thomas was an avid and master bridge player, an accomplished horse woman who especially loved the "lunada" (moonlight) rides up the mountain trails at night. She knew everyone in Ajijic and they knew her as the "Grand Dame" and "Hibiscus Lady" for the hibiscus flower that she often wore in her hair. She was considered a beautiful and elegant paragon of Ajijic fashion, setting fashion trends for many years.
Her interests included charitable organizations, one for blind children and the Chapala Cruz Roja.
She is survived by her three children: daughter Tony Bird and sons Terry and Michael Thomas. She had nine grandchildren: Bryan, Camilla, Michael, McKenzie, Megan, Montague, Eric, Thalia and Devon. Her great-grandchildren are Liam, Sean, Karina, Hudson, Scout, Cecelia and Bianca.
Arrangements for a memorial service to be held in San Diego, California are pending.