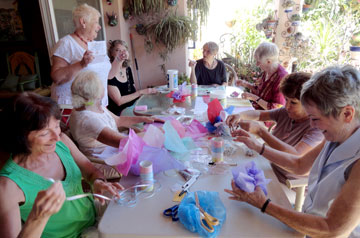 Amigas Jewels is a lakeside group with bi-monthly meetings to learn and share jewelry-making techniques.
This winter the 30 members of the group fashioned and gift-wrapped more than 100 beaded necklace and earring sets which are being given to the elderly women who attend the Mother's Day celebration at Corazon de Ancianos.
Corazon de Ancianos is a home for the elderly of Jocotepec of extremely limited means. To date most of the very independent people of the area visit the community facility for midday meals and to participate in the health services and planned activities, which include folkloric dance classes, the crowning of a queen of the "third age," musical programs and handicraft projects.