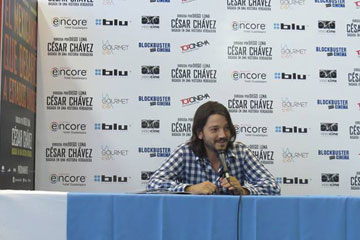 Both U.S. President Barack Obama and U.S. Ambassador to Mexico Anthony Wayne have recently hosted screenings of "Cesar Chavez," a new film about the inspirational U.S. labor leader who in the 1960s stood up for the rights of migrant workers and cofounded the United Farm Workers union.
In attendance at both screenings was the film's director and producer Diego Luna, who is known for his acting endeavors in films such as "Y Tu Mama Tambien," "Frida" and "The Terminal."
"Cesar Chavez" was a labor of love, says Luna, who attended the premier of the movie in Guadalajara last week. Interestingly, he noted that U.S. investors repeatedly shunned the film, which was financed entirely from Mexico at a cost of 10 million dollars. Equally conversely, few Mexicans know who Chavez – a Mexican American – was, his fame being almost exclusively restricted to the United States.