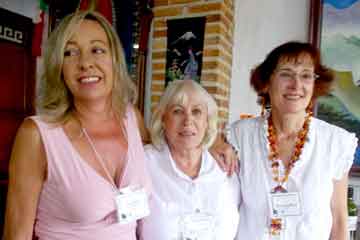 During the May meeting of the Culinary Arts Society of Ajijic (CASA) members competed in two categories: main dish salads and pies and tarts. While judges Pedro Palmer, Margery Eddington and Andrew Robertson tasted and tallied the results of the contest, Steve Alvarez, owner of Las Playas Pescaderia in San Antonio Tlayacapan spoke to the group about fresh fish.
Beth Cathcart took first place in the main dish salad competition for her wine salmon with roasted peppers and dill sauce. Curry apple chicken salad secured second place for Joan Warren, while Maureen Renz's Asian chicken salad with peanut dressing ranked in third place.
Winning first place in the pies and tart contest was Mary Ann Waite's caramel apple tart. Shirley Kollin took second place with her cheese tart with glaceed oranges. Third place went to the bourbon pumpkin tart made by Catherine Suter.
The people's choice votes netted four main dish salad winners: Ginger Perkins, roasted seafood Israeli couscous salad; Monica Molloy, shrimp and monkfish salad with aioli and cucumber gel; Warren, curry apple chicken salad; and Blue, spicy Asian noodle and chicken salad.
The people's choice pie and tart winners were Waite's caramel apple tart and Marina Benz's pecan pie.
Winning the nod for best presentation were Cathcart's main dish salad and Shirley Kollin's dessert.
For more information on CASA email This email address is being protected from spambots. You need JavaScript enabled to view it. or call President Annie Green at (376) 766-5243. The next meeting/competition for CASA will be at Min Wah Restaurant at 4 p.m. on Monday, June 16 when members will prepare either a savory brunch main dish or muffins, coffee cake or sweet bread. Visit the CASA website at www.ajijiccasa.org for more information.