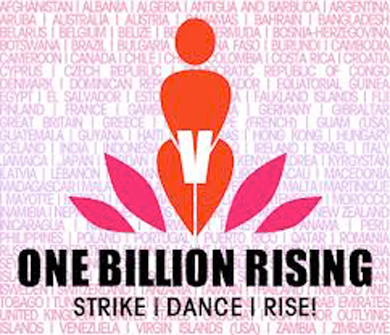 Anatomy of an event
Over 5,000 groups in 200 countries participated in the Valentine's Day One Billion Rising movement to end violence against women. La Manzanilla was one of them. As near as I can tell, we were the only location along the Costalegre to host anything organized. Ours wasn't quite the flash mob of other cities around the globe, but it was as close as La Manzanilla is likely to get. And it all coalesced within two weeks. Said co-organizer Stephanie Wunner, "This evening practically put itself together. All I did was hold on to the strings to keep them from getting tangled."  
The other spoon in the One Billion Rising broth and the local movement's catalyst was La Manzanilla winter resident Ron Blett. He posted information on our local message board about this global event scheduled for Valentine's Day. Within a matter of hours, Stephanie was on board with her typical "why not?" attitude, and the volunteers started falling into place. A quick meeting later, and a happening was born. 
Mayor Pedro Preciado, at Stephanie's request, donated rental of the plaza and audio equipment. Ron, himself an accomplished guitarist, put out a call for musicians. Patricia Regla, Valerie Denford, Jeanne Marinak and Linda Koenig created and distributed posters, in Spanish and English. Although expats initiated participation, word spread among our Mexican friends and neighbors, who were quick to get involved.  Some of La Manzanilla's finest local musicians played, and crisis-response personnel from La Huerta explained resources available to female victims of violence. The evening was truly a community-based event of global proportion.
And so La Manzanillans numbered among the One Billion Rising against violence toward women, and danced in solidarity on the plaza on the night of February 14. Between 8 and midnight, music was performed by almost every musician in town who wasn't already bespoke for the holiday. Domatilo Rosa, as well as father and son duet Armando and Enrique Figueroa, played and sang traditional Spanish love ballads. Triskele Celtic Duo added some lively Irish aires. Dave and Sally Mott, Dan Crosby, Pablo and Denise and assorted other visiting rockers kept the tempo moving, and Bindu closed the show with his signature rendition of My Funky Valentine.
Whether or not you believe these these kinds of demonstrations effect any difference in the world, or next door, it was a pleasant diversion to bring members of the community together on the official day of love and friendship. And it was a welcome change to attend an event where no one had his hand out for a donation to anything.
Gangs in the 'hood 
Narco-related killings last week in the nearby communities of Cihuatlan and Barra de Navidad moved the War on Drugs practically into La Manzanilla's backyard. Many expat residents and foreign visitors here are insulated from area news unless it involves one of our own. Aside from the English-language Guadalajara Reporter, our available news sources are in either Spanish or chisme (rumor), which not everyone understands. This time, however, the elephant in the plaza was too big to ignore.
Shoot-outs in the streets and the arrest of two suspected members of a big-time drug cartel were reported in this newspaper as well as in Spanish-language media, including e-news site www.canal235.com.  La Manzanilla and Barra message boards hosted various versions of the story, and chisme buzzed through town like swarms of frightened bees. Regardless of the details, it was obvious that something had happened, it was big, and it was too close for comfort. As a journalist friend of mine would say, "Santo Crappo!"
To date and to my knowledge, La Manzanilla has had no discernible traffic with narcotrafficantes. Our plaza remains peaceful, our streets serene, and our beach golden. All the news reports have stated that 'suspected gunmen were last seen heading toward Manzanillo.' That's good; that's in the opposite direction from here. Not that I wish murder and mayhem on anyone, but the geography of our laid-back, picturesque, little village is not conducive to gang warfare. I'm betting the narcos are too smart to waste their time on us.
For one thing, La Manzanilla is isolated, hard to reach. The only highway for miles in either direction is a narrow, sinuous two-lane with few opportunities to pass. It's prone to delays behind big trucks top-ending up a hill at five miles per hour. Worse, the sole, long road into and out of town, with topes and vados every few meters, is like a canyon boxed in by the sea. And, there's not a street in town to easily beat a hasty retreat, not that there's anywhere to go once you get out. 
La Manzanilla remains an excellent retirement and vacation destination, remote, perfect for getting away from it all. Markets with easy in-and-out access should continue to be more lucrative for out-of-town business interests. Now that's settled, the elephant may please leave the building. I may know an ostrich who wants to bury her head in the sand. 
Home Depot debuts
Home Depot has finally opened in Manzanillo, and you no longer have to drive through downtown Cihuatlan to get there and back. I've always considered Cihuatlan a wart on the nose of an otherwise pleasant drive to Manzanillo or the airport.  It's congested, slow and not necessarily scenic. The narrow streets are trashed from big-truck traffic and storm damage, and it's the site of our only two traffic lights between Puerto Vallarta and Manzanillo. Now all that can be avoided. 
Heading south from here, look for the right turn almost across from the Coca-Cola plant and follow that well paved road 'til it ends at the intersection for the bridge over the Rio Marabasco. At the other end, the entrance is a very sharp left turn as soon as you get across the bridge. Even if you miss the turns, which is easy to do, getting through town is a little less stressful since most trucks are taking advantage of the by-pass.
Only a resident of a shopping-deprived area such as the Costalege could appreciate our fascination with big American chain stores. All that hard- or impossible-to-find stuff  in a predictable layout under one roof, with a soundtrack of familiar rock and roll, can be a heady experience. I give you Manzanillo's new Home Depot. It's just like every Home Depot in the world. The only variable is the language on the signs.
This one is located on the inland side of the main shopping-district thoroughfare, between Soriana and Sam's Club. Like nearby WalMart, the new Home Depot has covered street-level parking, with an escalator up to the shopping level. Everything you could possibly want to build, remodel, repair or clean an average house appears to be in stock or available by order. Whether Mexican contractors rely on Home Depot here like they do in the States remains to be seen. The store does, however, appear to cater to the emerging Mexican middle class, and expats craving a taste of "home."