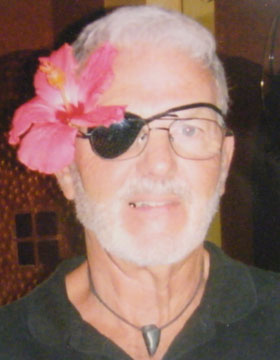 Bayard Taylor Shaver II died March 12 at his home in Ajijic at the age of 74.
Shaver was born July 25, 1939 in Wayzata, Minnesota. After leaving high school he spent two years in the U.S. armed forces in Germany – for some of that time Elvis Presley was in the same regiment.
Shaver attended the University of Minnesota and then went to work in the family heating oil business, where he remained for 25 years.
Shaver was a member of the Wayzata Rotary Club and Chamber of Commerce, and was a city councilman for several years.
In the mid 1990s Shaver and his wife Bee moved to downtown Minneapolis, where they lived until his retirement from the Federal Reserve Bank of Minneapolis. He served as a deacon at Westminster Presbyterian Church, and was involved in their outreach program.
The couple moved to the Lake Chapala area in 2008 and Shaver became the only "pirate"volunteer at the Lake Chapala Society library.
Shaver is survived by his wife Bee of 49 years, children Bridget (Erin) Ramburg, and B. Taylor Shaver III (Colleen), grandchildren Bayard Taylor IV, and Lila, all of Minneapolis; three siblings, sister Ann (Fred) of Florida, brothers Stuart Morley (Sue) and James (Nancy), of Minnesota; and many nieces, nephews, and cousins.
Shaver was a witty, intelligent and well-read individual. He was an accomplished commercial pilot and trophy winning distance runner. He loved classical and jazz music, and enjoyed climbing the mountains in and around Ajijic.
Shaver is already missed by his many friends, who say he was a person who "always looked on the bright side of life."
A memorial service will be held at a later date in Minneapolis. Donations in his memory may be made to his grandchildren's college/university education fund c/o University Educational Savings Plan (acc. 201408278-Bayard Shaver). Mailing address UESP, P.O. Box 145100, Salt Lake City, UT, 84114-5100. The check should be made out to the UESP, with the account number and Bayard Shaver in the memo line.